Wandering with Wainwright - Haystacks on Haystacks
Date: 31-Oct-2008
Map: Landranger 96, OL4
Weather:
All four seasons in one day.
From Buttermere to climb steeply up to Blaeberry Tarn and Red Pike. Then along the ridge past High Stile and High Crag. Drop down to Seat, across Scarth Gap and up to Hay Stacks. Around to Little Round How and back down to Gatesgarth. Return to Buttermere via the northern shore: 11.5 miles as measured with a new talking pedometer! (9.7 on memory map)
At Xmas 2007 I was given a small book titled 'The Best of Alfred Wainwright' by Hunter Davies. It is a personal collection of his favourite Wainwright walks, and over the last year I have walked quite a few of them. So today's walk ticked off another one on the list. His choices have been pretty good so far and I haven't been disappointed by any of them. It was nice to sit back in the cold of winter next to a warm fire and read through the book, and it reinforced my enjoyment of going out for a good stomp around the countryside. Today was the last chance of a walk before going off to Norway for some work and the forecast for the lakes was fine. The main thing was that the freezing point was some 100m higher than where I planned to ascend to, so I knew that it wouldn't be too Baltic – wrong again! As I drove along towards Keswick, Blencathra loomed up ahead looking very steep and covered in a layer of snow. Sharp Edge was clear and I thought how difficult that would be today – only for the experienced climber I suspect. But I was headed for Buttermere, and mindful of how I could miss a turn or two, I set the SatNav and followed the instructions. It told me I was at my destination as I was still driving along a quiet road about a mile from Buttermere. The roads were very quiet and I arrived to park in Buttermere at 8:30. I didn't have enough change for the car park - £6 for the day, and could only rustle up £2.70 which would last me 2hrs! So I left a note on the windscreen telling the attendant I would pay them when I returned later in the day – the parking fine was £60, so I wondered if the promise of an extra £3.30 would be ok. I took my time getting booted up today and I was expecting some soggy going in places due to the tremendous storms of the previous week – I'm sure everyone would have read about the OMM race but here is a link in case you missed it - http://news.bbc.co.uk/1/hi/england/cumbria/7691020.stm . Once I was ready I set off and passed the Fish Hotel, and turned down the farm track that led over towards Burtness Wood.

Burtness Wood across the valley

Looking back to Buttermere with Grasmoor in the clouds

Looking along Buttermere – note the storm damage
I was delighted to see some Red Squirrels in a hedgerow, squabbling with each other, disappearing and reappearing at regular intervals. I spent some time trying to capture them on camera, but they were very shy. I expected them to be a lot smaller than they were, but these looked healthy and plump – better not let Hugh nley-Whittingstall know! The path ahead looked steep and as I approached the woods the first signs of storm damage appeared as the path had been washed away on either side of the footbridge. The views along the lake towards Fleetwith Pike were lovely in the early morning sunshine. I was aware that my route today was very steep to begin with, and climbs up from 334ft to 2480ft without much easing of the gradient. So although it was quite crisp and chilly I didn't have too much clothing on as I knew I would be perspiring slightly by the time I reached the snowline! There was a notice telling of storm damage further up Sourmilk Gill, so I took the route up through the woods, following a very neatly laid out staircase of stone slabs. I started out in bright sunshine from Buttermere, but by the time I was above the tree line some clouds had rolled in from across the valley and I was in and out of the sun for a while. I stopped periodically to rest and take in the views below and behind me. Across the valley I could see some fresh erosion from the storm waters on the lower slopes of High Snockrigg, and as the path moved closer to Sourmilk Gill there was more damage to the path. It just shows the frightening power of floodwater and the size of boulders that can be washed away quickly - It must have been terrifying for the poor woman who was rescued from a fast flowing stream the previous week.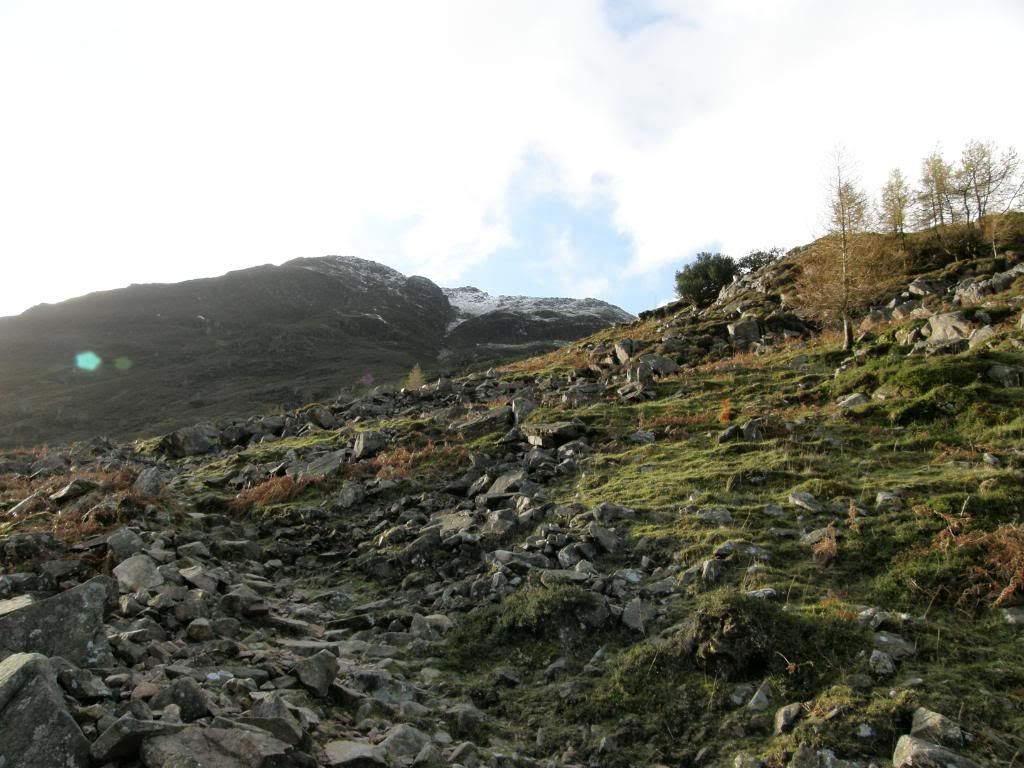 Above the woods and looking up towards the tarn

Fleetwith Pike in the distance – Honistor Pass to the left

Bleaberry Tarn and the snowline
The snowline was around 500m and as I reached s covered with a dusting of snow, with some icy patches. But as the ground had a touch of frost, it wasn't too soggy and I didn't get very wet boots. I took a rest at the tarn and put my outer shell on as the wind higher up the slope was distinctly chill. The path up to Red Pike was clear enough and the snow thickened as I moved up to the summit. It wasn't much of a covering, but was enough to make me careful of my footfalls, especially towards the top where it was more exposed, windy, icy and cold. A little gully led me up to the top and all of a sudden the views opened up to Pillar, across Ennerdale, and beyond to the Solway Firth and Scotland, and behind me the Derwent Fells. Red Pike is formed by the granophyric granite of the Ennerdale intrusion and the Syenite in the subsoil produces the red colouring of the fell – hence its name. Much of the path leading up through the woods and further up the slope is made up using this granite.

The final climb up to Red Pike

A small col led down to a Dodd

A wintry scene looking towards Crummock Water

The view back across the valley to Robinson

Along to High Stile from Red Pike

And further along Ennerdale and Great Gable appear
It was very atmospheric on the top and the wintry scene was fantastic to look at but a little cold to be stood still for very long. So I consulted my map, took a bearing and headed off towards High Stile, even breaking into a jog once in a while to make haste in the cold wind. Unfortunately the cloud base dropped a little as I was walking along the top, which obscured some of the views I could have seen, with the bigger peaks hiding away. It was interesting to look down on Ennerdale and anticipate my coast to coast walk in 2010, and have an alternative view of some of the route. Now I have seen it from above it would be a shame not to return up here when I walk the C2C. The old Ennerdale fenceline could still be seen, and the old metal posts spaced at regular intervals were useful as an aid to know I was walking in roughly the right direction. The crags to my left dropped down steeply in places to the slopes below, and I didn't see much wildlife up here – no Eagles on Eagle Crag. Once I had passed by High Stile it was onwards to High Crag with good views left and right all the way along the ridge. The drop off from High Crag is quite dramatic and steeply winds down Gamlin End to the col before once more ascending to Seat. The view from the top is magnificent and makes all of the sweat and toil of getting up here worth it, even though it started to snow a little. It was the first time I had been up here and Hay Stacks lay darkly below me, with Great Gable beyond covered in a snowy cap. The path down was mostly on loose scree and zigzags down very steeply until it reaches lower ground, losing some 600ft or so in the process - I was glad not to be going up the other way. Once I was down on lower ground the view back up to High Crag is impressive, and reinforces my view that you have to get to the higher ground to enjoy and appreciate the surrounding landscape, and all the features that you can't see from lower down.

Black Sail Hut is down there somewhere

Looking down to Seat, with Hay Stacks beyond
I took some timeout on Seat and found a sheltered spot away from the main path. As it was bitter in the wind I kept my gloves on for as long as I could and enjoyed a flask of warming soup with some Marmite rolls – so nice that I've had to stop typing this up and go and make another one – yum. I looked down at Black Sail Hut a long way down below Hay Stacks and a good refuge for those walking the C2C path in rough weather. Once I was revived and fuelled up for the second half of my walk, I made my way down to Scarth Gap where the path up from the Black Sail Hut crosses, and then once more onwards and upwards to Wainwright's favourite fell top. The ascent of Hay Stacks was easy enough and the gradient a little more user friendly compared with earlier in the day. There are several spots where a small scramble up and over some rocky slopes are negotiated, but nothing is too strenuous with the anticipation of Innominate Tarn to come. The retrospective views back along the valley were superb and far reaching as I reached the top of Hay Stacks. All around me I was looking at higher peaks across the valleys, and the top of Hay Stacks was quite busy with people who had come up from Gatesgarth. It was gratifying to see all ages up here today paying a little respect to Wainwright by walking up here to see what all the fuss is about. He wrote in his book of 'The Western Fells' – 'for beauty and variety and interesting detail, for sheer fascination and unique individuality, the summit area of Haystacks is supreme. This is in fact the best fell-top of all.' I can see why he chose it now and had his ashes scattered near the tarn, but I guess there is a little bit of Wainwright floating around different parts of the lakes by now, as it gets pretty windy up here. It must be very peaceful and a delight to be on early in the morning on a clear spring day, when the sun gently warms and you could see for miles around. For a lovely summer picture have a look here and you will appreciate how glorious a spot it is -
http://www.jameslomax.com/words/878/wainwrights-walks .

Looking back up to High Crag from Seat – you can see a faint zigzag path

The view down Buttermere from the path up to Hay Stacks

Some banded lava beds up near the summit of Hay Stacks

Another glorious view back down Buttermere

Innominate Tarn – Wainwright's favourite resting place

The same tarn looking towards High Crag

The route down to Blackbeck Tarn, with Great Gable behind
After spending a little time wandering around the summit and acting as official photographer for several parties, I continued my walk down from the top towards rn and passed by many walkers who were returning back to Gatesgarth. I gave up saying hello after a while as the ascent from the valley had obviously taken its toll on a few people who plodded slowly along, and all I got was the occasional grunt. Great Gable appeared bathed in sunlight for a brief moment, and it looked like a giant freezer waiting for the unwary. I was glad to be lower down now and out of the chill wind, sheltered by Wainwright's favourite. In fact I had to shed a layer or two to stop myself overheating, a bit of a nuisance as when the wind blew again, I had to put it all back on. I settled for the half on, half off look and didn't care what sort of picture of sartorial elegance I made. As I made my way around green Crag towards Little Round How there Are some very steep drop offs down gullies to the valley below. One of these does have a scree path down, but one look at how steep it is was enough to persuade me to continue around to the old quarry track, crossing over Warnscale Beck. The beck cuts deeply down the valley in a number of small falls and I could see from high up the hill how crystal clear the water was - it is almost turquoise in colour, but I bet it was a touch cold. I could also see the path winding down the side of Fleetwith pike to Warnscale Bottom where the gradient eases and the stony track follows the contours around to the road at Gatesgarth Cottage.

Green Crags – they are as well

One of the deep gullies down off Green Crags – no thanks

Great Gable peeking over the horizon

On the path down and Buttermere beckons

Looking back up to Hay Stacks and green Crags

And the rain tried to spoil my day, but it didn't

The same view towards Buttermere, zoomed in on the lake
Down in the valley the rain attempted to wet me a little but most of it blew away high over my head. My views now were back over the mere towards ermere and a gentle stroll along the northern shore. The russet coloured bracken dominated the hillsides from this viewpoint, and it was good to be looking up to where I had walked in the morning. From Gatesgarth to Buttermere I met a series of people out for a gentle stroll, usually with the dog (and all kept on the lead, as requested by the NT – the dogs not the people), and all looked happy to be out in the autumn air. I walked on the road for about half a mile before I could go down by the lake and follow the path all the way to Buttermere. I was surprised at how good the ground was, and although there were a couple of spots of storm damage, in general the path was dry. As I reached Crag Wood there was a little promontory that juts out into the mere a little and afforded me a good spot to take some pictures looking back to Hay Stacks and also towards Buttermere. I spent some time watching two Little Grebes that were diving for their lunch, but no sooner had I zoomed in to take a picture, they disappeared from view and all I got was a photo of water. Amazing to think that on all this expanse of water all that was on it were two little ducks – quack quack.

The view from the middle of Buttermere back to Haystacks and chums

Close to Buttermere now, the view of High Stile, High Crag and Hay Stacks

The small church at Buttermere
As I made my way along the shore there is a short section of tunnel cut through the rock – no torch required for this, and a wonderfully sited seat to gaze across the lake to the fells beyond. I could see the route I took this morning zigzagging steeply up the opposite hillside and was glad not to have any climb left today. As I approached the village I looked up to the church where there is a plaque dedicated to Wainwright, but as he wasn't a religious man, I decided I had paid my respects up on Hay Stacks beside his favourite tarn. I know he was with me in spirit this weekend because as I sat writing this up on Sunday morning I spotted a horse running at Carlisle, and no matter what you think of gambling, I think you'll agree it would have been rude not to have a bet – I love walking – and the odd bet now and again – thanks Alfred, you were and still are brilliant! Description Bet Details Status 2-40 Carlisle Innominate @ 10/1 - it came in second!
Where now: Home : Day Walks Menu : Lake District Menu