Scafell Pike from Seathwaite
Date: 20-Apr-2009
Map: Landranger 89, 90, OL6
Weather:
Hot – no wind, hazy on top – a glorious day around 20 deg.
A circular walk from Seathwaite to Stockley Bridge, up to Sty Head, over to Piers Gill and up to Scafell Pike. Along to Broad Crag, Eskdale Hause, Allen Crags, up to Glaramara. Down Thornythwaite Fell and back to Seathwaite: 13.3 miles on the Satmap.
I met up with Graham so early that the car park at the Trafford Centre was yet to open. So we dropped a car off in the employee section and made good time up to the Lake District. Every weather forecast I had looked at forecast wall to wall sunshine, with a ridge of high pressure across the north of the UK giving stable weather. The only trouble was that spring was here and the ground was heating up but the air was still relatively cold, so we get a hazy weather especially over the coast. As we turned into Borrowdale we looked out at Derwentwater and the stunning sight of a glass like surface. There are not many days like these, with not a ripple on the surface – too early for the ferries, so we screeched to a halt twice, which delayed the start of our walk somewhat. I was trying to get the best exposure I could, but it left me with some shaky shots, much to my disappointment when I got home. But there were still one or two good shots in there due to the fact I took so many pictures.
Looking towards our hills for the day
And looking back the other way
I am struggling to find a polarizing filter for my camera and didn't realise when I bought it that it doesn't fit any – but since then I bought a bigger size, but I still have to hold it in front of the lens, which is a real time consumer especially in bad weather. But I'm not a photographer so I don't lose sleep over it – anyway on with the story. We drove on to Seathwaite and up a narrow lane to park up on the grass verges before the farm. There was plenty of room but it was rapidly filling up, and you would have to be early on a weekend or bank holiday. The first thing we saw today was a bunch of trainee surveyors from Newcastle University – we said to them what a lousy place to have a field trip, but try to make the best of it! They just laughed and told us what they were up to – it sounded great and what a place. We gently strolled along the valley to Stockley Bridge in the morning sun, noting the huge amount of boulders in the stream bed –glaciation rubble. It was the perfect temperature for walking – T-shirt and shorts, no wind and not too hot. It was also nice and peaceful with a steady stream of hikers but not really too busy.
We met this cheeky chappie early on
On the way to Stockley Bridge
I had chosen the easiest route up Scafell Pike today, with a few steep bits, but generally the gradients are a lot less this way up. We walked below the falls at Taylors Force and on to the picturesque old pack horse Stockley bridge – a very picturesque spot and a fine site for a picnic if you're not walking up to the top. We passed over the bridge with its babbling brook below and our first climb of the day was up to Green bow Knotts – not too taxing and a bit of a leg stretcher for the day to come. We knew it was going to be a hot one today and I had a couple of litres of juice to get me through, which was just about enough. I took regular gulps all the way to the top to keep hydrated but I think Graham was a bit short of supply today and finished the day a tad thirsty – I've since purchased a 'Water Tap' that will allow me to drink freely and safely from streams. We reached the valley above soon enough at walked alongside Styhead Gill along towards Styhead Tarn. The views ahead were great with Great End, Ill Crag and Scafell Pike dominating the skyline ahead and Green Gable above us to the right. There was an orange tent pitched alongside the tarn and what a splendid place for a spot of wild camping, and it made a lovely contrast next to the green hills.

Back down the valley to the start

Great End with Scafell Pike at the back

Lingmell from the MRT box, with the deep gash of Piers Gill
Up by the MRT stretcher box we could look across to our route by Piers Gill and tried to pick out a path that would not loose all the height we had gained to this point. We did have to drop down a little from Sty Head as opposed to turning left to go up to the corridor route, but our reward was fantastic views of the southern face of Great Gable. Every time we stopped and looked around on our way up, there it was in our face and I think we both ended up with numerous pictures of the same view. But our immediate view when contouring around the hill was down the U-shaped valley to Wasdale Head – it looked big and empty down there, with the only vegetation of sheep cropped grass. We came across a deep cut gulley of a side stream and named it the fireman's leap after Graham jumped across. I took a picture that came out first time, but I couldn't manage a shot mid leap, so I got him to go back and forth several times just for fun – got to get the energy out of these youngsters you know. We managed to clip off a good deal of drop down to the official path and stayed high up the slopes by following a couple of sheep trails around towards Piers Gill. As we reached Piers Gill it was easy to look along this big gash below Lingmell and today it looked dry as a bone due to the prolonged spell of dry weather we have had. It would have been possible to go up the Gill today but all of the guide books warn of the dangers of going up the Gill and I wouldn't consider going up that way. There have been many people stranded and being rescued by the MRT – so don't even think about it, just stay above and look down in wonder. Behind us Great Gable was flexing his muscles – fancy naming a mountain after an actor. I haven't been up there yet, but we could see a couple of people descending the climbers traverse – it looked impossibly steep from where we were but I suppose it's not so bad closer up and this is a route I'll consider for later in good weather. My pictures continued to be wobbly and to this day I still don't know why – doh.

Great Gable and some steep scree slopes

The same from further up the gill
From the bottom of Piers Gill it is a steady grind up the left hand side of the Gill to the top where it reaches the Corridor route. But just before the route swings south the path hits a metaphorical brick wall – there you are concentrating on your foot placement looking at the ground and all of a sudden you bump into the crag – you look up and the path just stops at the base of a 20 to 30ft scramble. People must get confused here, but some kind soul or different type of sole (depending on your point of view) has scribed an arrow at the base of the crag pointing skywards. But once we were up and over this hurdle the path up the side of the Gill was straightforward and easy to follow. Periodically we stopped to stare at Great Gable and down into the depths of Piers Gill – it really is quite a drop to the bottom, so be careful. I was glad to get up to the Corridor route path and the gradient eased a little before a final trek up to the summit. There are several well worn paths up to the top and others leading away from Scafell Pike so we made sure we were on the right one and didn't waste energy going along the wrong route – easily done when you're feeling a bit bushed.

Looking down Piers Gill from the corridor route

At the top with hazy views all around

Posing by the summit trig point
There were some good pieces of convoluted bedding to be seen on the way up and they provided little stops to stand and stare at the rocks beneath our feet. Obviously there were great views looking back down to our route today, back to Styhead and beyond and the higher we got the more we could see, but because of the bright light it was a little hazy. It wasn't overly busy when we got up towards the summit, and we took time to go over and look down to Broad Stand and the routes up to Scafell including Lord's Rake – an exciting little route up. But we were there to walk up to the top of England (Grahams first and my second ascent) and as always it is great to stand atop a mountain and take in all the surrounding vistas, and enjoy the rewards of your efforts. We took time for a lunch break and didn't have to don a fleece or any extra layers as there was no wind to speak of – very strange for an exposed mountain top, but very welcome. After some rest and refreshment we wandered to the south a little, over to where the great AW used to sit and ponder. The views from here are terrific and we gazed down over the Great Moss of Eskdale and beyond to the Crinkle Crags and Bowfell, themselves great walking country. But we didn't dally too long as time was ticking along, but Graham said he was ok for a later finish, so I didn't worry too much about time – and that's the way it should be.

Looking back up to the summit cairn

Across to Lingmell, with Great Gable out back

Steeply down to the col above Little Narrowcove
We retraced our steps back across the boulder strewn summit area, passing some old stone shelters to get to the path down to the col between Scafell Pike and Broad Crag. It is generally easy enough to follow the path as the oft used rotes are lichen free and show up as a lighter shade of grey than the surrounding areas, but you have to be careful with your footfall, as it would be easy to turn an ankle up here. We paused to look down Little Narrowcove, a steep sided unrelenting slog that comes up from the Great Moss in a direct line. Onwards from here we walked up to Broad Crag and along the broad ridge which led us on and down to Esk hause. There were a steady stream of hikers to and fro from Scafell Pike, but the further away we went, the fewer people we saw. A couple of jets flew close by and as usual I tried to take a shot, and as usual they turn out as blurry dots in a blue sky – one day I will get a good shot. The views before us changed constantly as we progressed on and we could see many different places that I have been lucky enough to visit over the last few years. As the afternoon wore on the views became increasingly hazy – almost too bright for my camera (operator error probably) and I ended up with a lot of bleached shots. We saw a different side of Great Gable as we moved around and the distinct cone shape of Pike of Stickle came into view to the south west.

The view back to Scafell Pike from Ill Crag

The changing view of Great Gable – note the two jets

Pike of Stickle on the left and Bowfell to the right

Scafell Pike is more distant now as we head to Glaramara
Once we passed the cross shelter it was up to Allen Crags, from where more views opened up over Angle Tarn and down Mickelden towards Old Dungheon Ghyll. Ahead of us lay Glaramara and the cruel false summit route. Every time we thought we were there another crest loomed ahead of us, to dash our hopes – I should have looked at the GPS a bit more. We passed by a couple of older gents, with one of them bemoaning the fact that his pal had told him it only took a couple of hours up here. He had two walking poles but he looked to be struggling and wanted a short cut. His mate who was presumably leading him was getting a bit peeved and started to ask out loud 'where are we'. So I tried to show him on the map the way down to the shortest route, but he totally ignored me and carried on moaning – b*ll*cks to you then I thought and we carried on.

Glaramara beckons – a false summit hill

The end is nigh – looking down the side of Thornythwaite Fell

Castle Crag appears out of the haze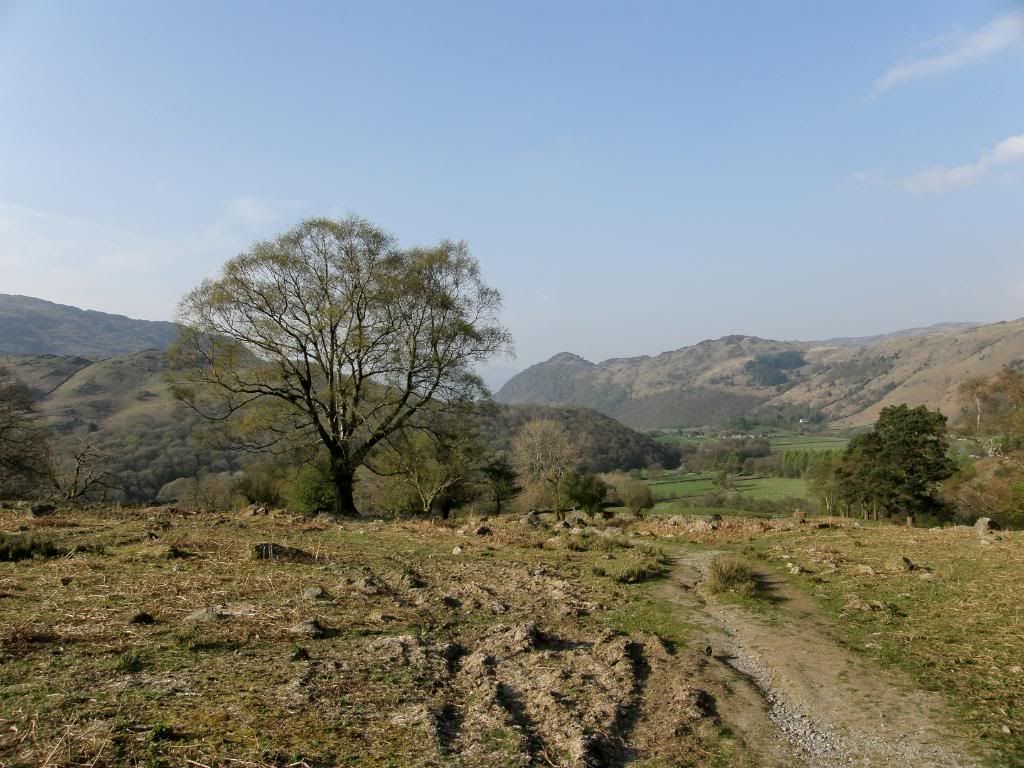 Just about to turn the corner to walk back to the car
At this stage we had to make a decision to cut short the ridge walk down or carry on down over Thornythwaite fell or cut down Hind Gill to Seathwaite. We chose to finish our walk in style and carry on down from Glaramara, and were awarded with great views down Borrowdale with Skiddaw in the far distance. Ahead of us was a man dressed all in white and we pondered if he was practising an extreme form of Morris dancing and he was making good progress down the fells before us. Castle Crag was prominent in my view, not a high fell but a very eye catching fell and well worth a visit. As we reached the side of the fell the path was steep down to the valley, and Glaramara towered over us when we looked back. But like all good walks we ended up back at the valley floor and had a couple of miles along a farm track to Seathwaite and the car park.

Squinting into the evening sun
What a glorious day out which took us 8hrs at an average moving speed of 3.1mph – not bad for a walk with plenty of ascent of 4430ft. Parked next to us on the grassy verge was a caravanette, and as we clambered over a gate we were met with a wonderful aroma of penne pasta with sausages ....yum yum. It was mightily tempting to mug the youngsters of their tea but their Dad was looking on us suspiciously. So with thoughts of food, and water for Graham we set off back down the lane to the nearest shop. Good company, a good walk and great views made it all worthwhile.