The Nantlle Ridge walk or part of it!
Date: 25-Apr-2009
Map:
Landranger 115
Weather: Overcast, light rain and blowing up a storm.
From the road near Rhyd-Ddu up to Y Garn to follow the Nantlle ridge as far as Trum Y Ddysgyl. Then down to the col which was too windy to continue the ridge. Down to the old mine workings below Y Gyrn, and then back to the car via a gentle path through the plantation and across fields: a 6 mile stroll with plenty of fresh air!
I first laid eyes on the Nantlle ridge when walking with Robbo and Mike in the snow up Moel Eilio in early February this year. There was a lot of snow around that day and looking across to the Nantlle ridge it looked very steep in places and very inviting. Robbo advised us to make it a linear walk so we arranged to meet up in Rhydd-Ddu car park at the train station. We arrived in good time at our agreed start of 8am after a trouble free drive down, and we waited for Robbo to arrive, and waited, and waited. Eventually he turned up after having taken the wrong turning and driving the long way around – not bad for a local! But we forgave him and we drove off to drop his car off at Nebo – a small village at the other end of the ridge. We parked in front of the school which would have looked a bit suspect later on in the day, but it was too early and there were no curtains twitching. Returning to the start Mike parked up the road from Rhydd Ddu saving us a £4 car park charge in the process and cutting out a boring bit of roadwork. There wasn't really a hint of the wind to come down below Y Garn (the small Y Garn – not the one in the Glyderau), and we set off at a steady pace towards the steeper path directly in front of us.

A little glimmer of light further south on Moel Hebog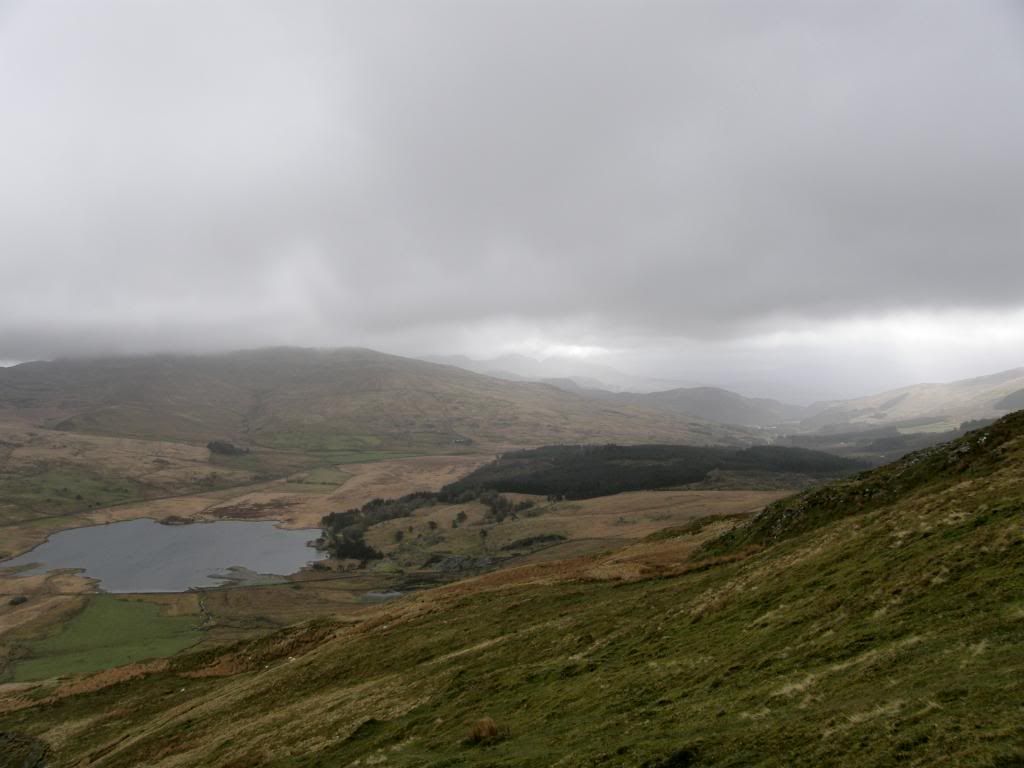 Looking back down over Llyn-y-Gader
The cloud base was low enough to obscure the tops today, but periodically they swept away allowing a glimpse of what we thought was to come. I had been on a diet since the New Year and made the mistake of not eating enough last week before walking the Snowdon horseshoe. Consequently I really struggled at times, so I had a good plate full of pasta last night and this proved to be a great supply of energy this morning. It must have worked because I was taking pictures of the other's below me and usually it's the other way around – Robbo blamed it on too much exercise the previous evening. We could see the top of Moel yr Ogof at 655m, but not much above it, and as our highest peak today was 734m we thought we were in for some misty walking along the crest of the ridge. It was a steep ascent up to Y Garn and we stopped frequently for a breather on the way. The path was mainly grassy to start with but turned shalier the higher we got, and there were plenty of steps eroded into the hillside which made walking a deal easier. The views back down to the valley below and across to Snowdon would be spectacular on a clear day, but at least we could see the two Llyns below us ok – one a reservoir and the other a natural lake. Towards the top we walked over a boulder field to get to the summit and as we reached the crest of the rise the wind hit us with a vengeance.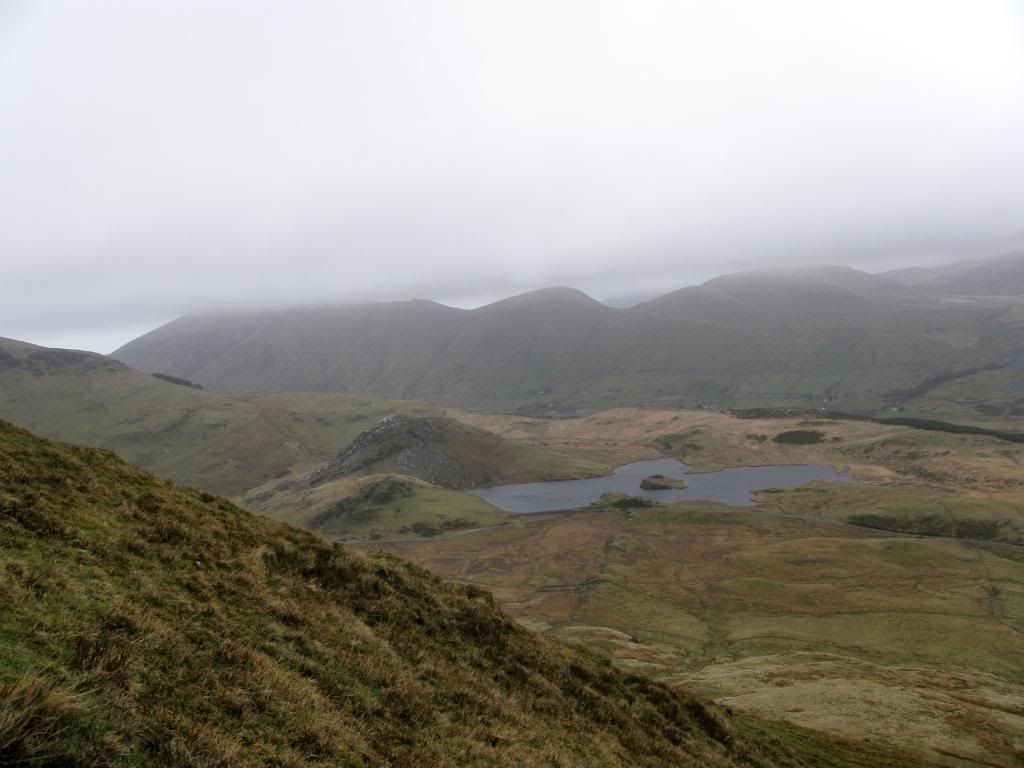 Looking down on the reservoir at Llyn y Dyvarchen

The broad ridge over to Mynedd Drws-y-coed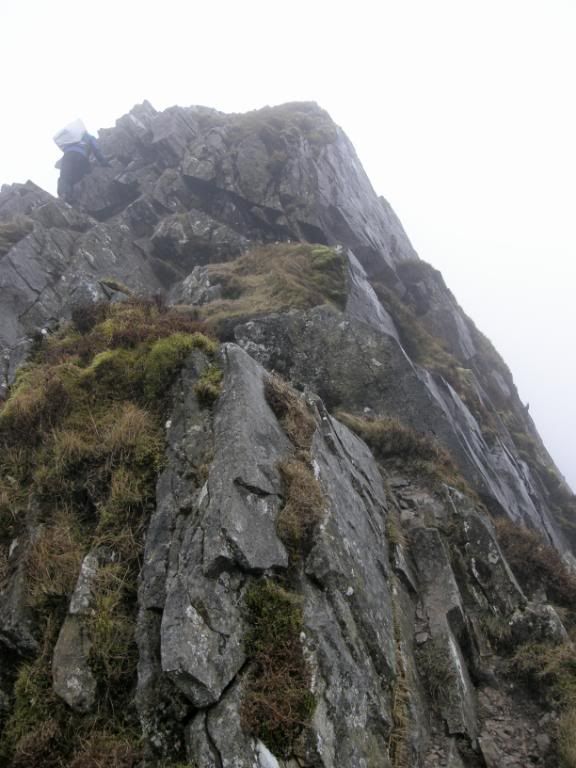 Mike going up a steep bit to Trum y Didysgyl
But even at this stage we didn't think it would stop us from walking the ridge as it was blowing us back onto safe ground, and not the other way around. The next hill along the ridge was Mynydd Drws-y-coed and the path was broad here and misty ahead, so we couldn't really see the climb up. It was rocky and full of boulders but nothing too strenuous yet, although we had to take care as it was slippery in the wet. Up on the top it was windy, but again nothing for us to be concerned with, and the forecast on Metcheck was a maximum speed of 35mph. The third peak of the day was Trum y Didysgyl at 709m. It was still misty and this one required a little more of a scramble, but there were plenty of good handholds and the route took us to the sheltered side of the mountain. We stopped for a chat and a bit of refreshments and were enjoying it so far. When we set off again we could see the clouds being swept up the steep face of Cwmyffynnon – don't ask me to pronounce that – and then barrelling over the top down the valley. We could see that there was a bit of turbulence in the air but as we walked down towards the col we had no idea what was waiting for us. Within a space of 20m we went from being able to stand up without problems, to a state of crawling along the ground due to the force of the wind. I have never been blown off my feet before, but I was literally taken off my feet and had to crouch down to the ground for safety. I tried to get along at a crawl but every time I stood a little to try and get across the gap I was knocked back. So I made my way back to Mike and Robbo and we decided that it would be foolhardy to continue along the ridge as the bigger scramble was to come at the next Bwlch along and it wouldn't have been any different there.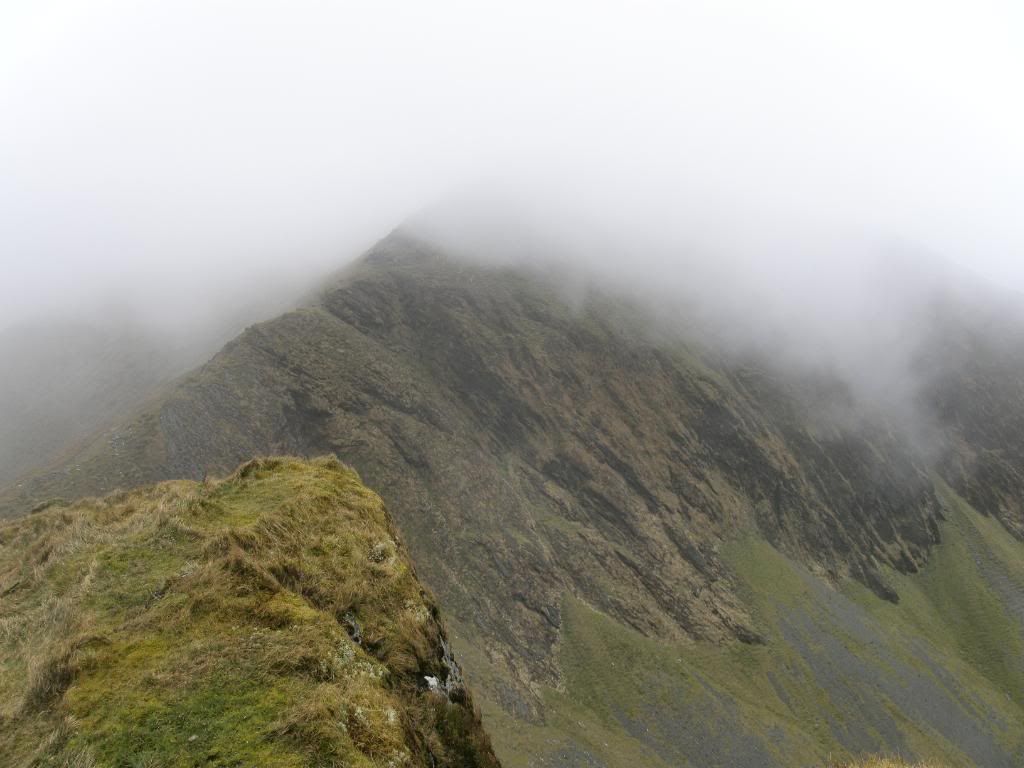 The wind was sweeping up from right to left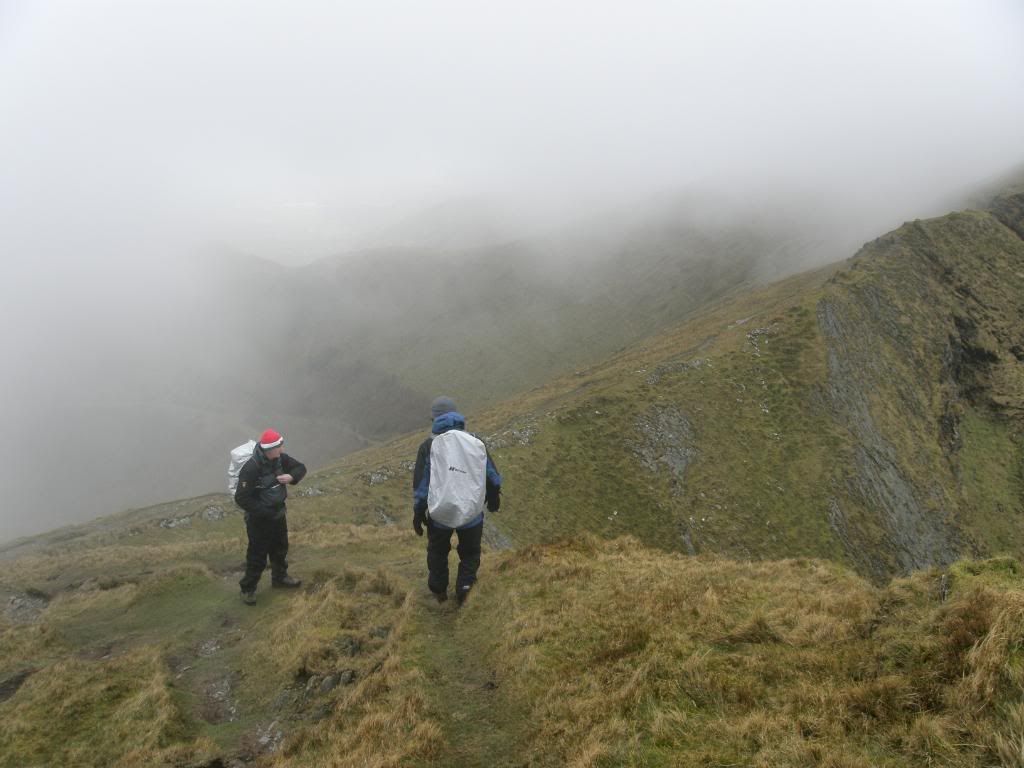 We were ok here but 20m further we weren't
So after discussing the way ahead, Robbo pointed out the old mine workings down below where we could go for a mooch around. We were a bit disappointed but happy with the decision we made, but there was no point in being another statistic. We had to make our way gingerly down Cwm Du about 300ft, and contoured around the slope towards the ridge that comes down between many Cwm's – 4 of them if you look at the map, so no wonder the wind didn't know what to do. As we gained the ridge we pondered if we should try and walk up to Moel yr Ogof or not, but we thought the best of it and contented ourselves with a mooch around the mine workings. The walk down was over nice springy grass and the ground wasn't too boggy either, and although there wasn't a path marked out on the map it looked like this was an oft used route to the top. Robbo told us the mine workings were interesting and they were, with a few old entrance tunnels, old buildings and some remnants of the industrial process – old channels and roadways. It must have been a busy place in the past and produced a lot of ? lead/slate as further around the valleys there are huge slate spoil heaps littering the landscape, which gives it a rather forlorn look. The old accommodation blocks had thick walls and would have had low roofs as well – cold and damp in the winter. It made me wonder how long the miners stayed up here at a time. A harsh life really and I don't think most of us can appreciate the hardships that these people had to endure.

The ridge ahead that took us down to the old mine workings

Looking north from further down the slope – safe here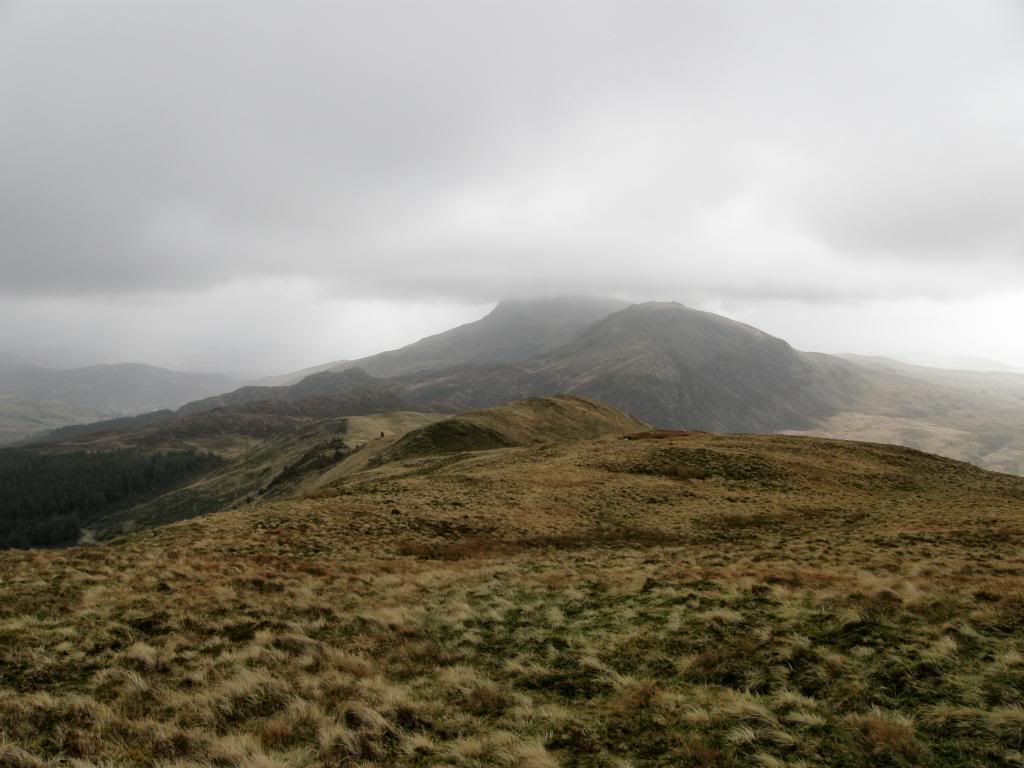 Moel Hebog in the distance behind Moel yr Ogof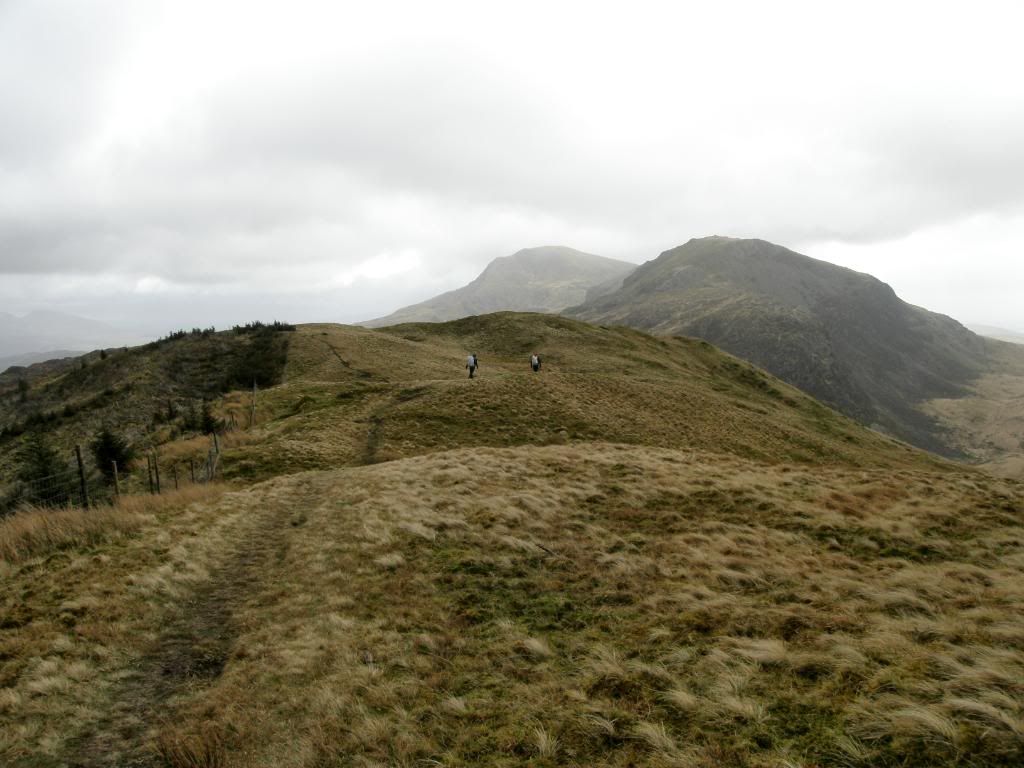 Nice springy grass here – Moel Hebog in the back

Looking back up to where we would have been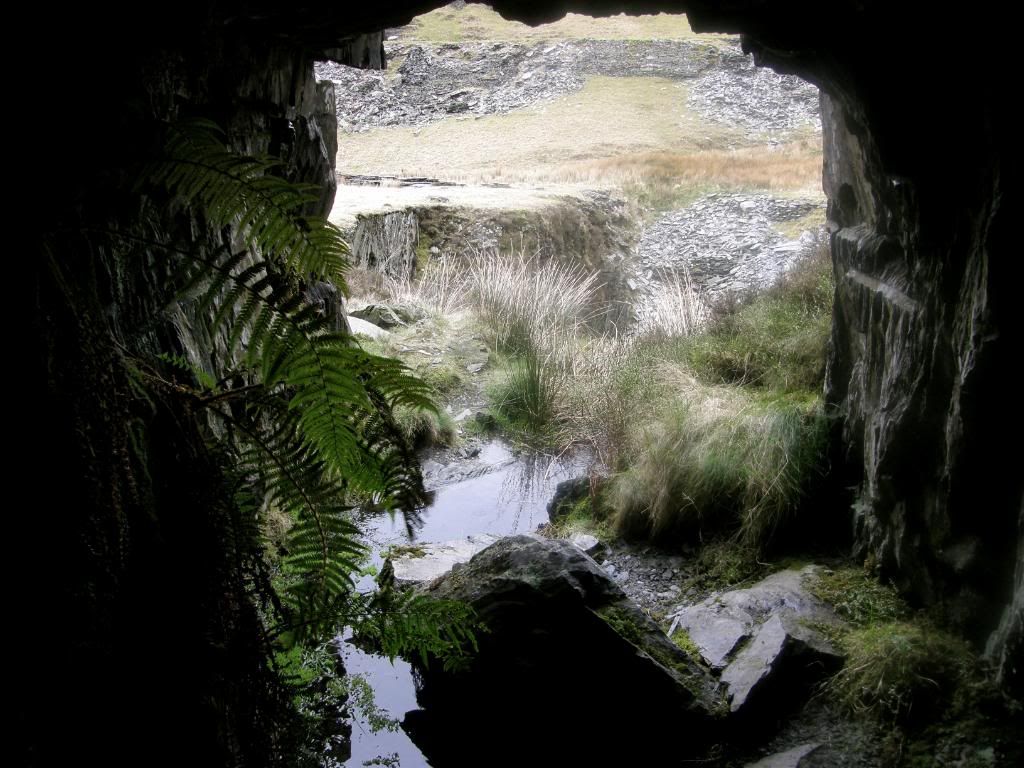 Shelter in one of the mine tunnels

Some splendid mossy quarry walls
But to brighten the day we met a couple walking along without a map and just a guide book – but she was a stunning blonde so we let them off and sent them on their way – well we are three blokes with a twinkle in our eyes. Actually that's not true, as Robbo used his twinkle up recently! We sat and had some lunch below the quarry wall and enjoyed the setting despite the weather, and then had a little explore around. We could see where we were meant to be and it was half tempting to try again, but that would have been folly. So we set out towards Bwlch-y-Ddwy-elor at the head of the valley and then disappeared into some plantation forest of Beddgelert, walking North West back towards the car. From here it was a gentle stroll back along an easy gradient, crossing over a picturesque little stream, and passing by some hut circles, before rejoining the path we took this morning.

Robbo told me this would be a good shot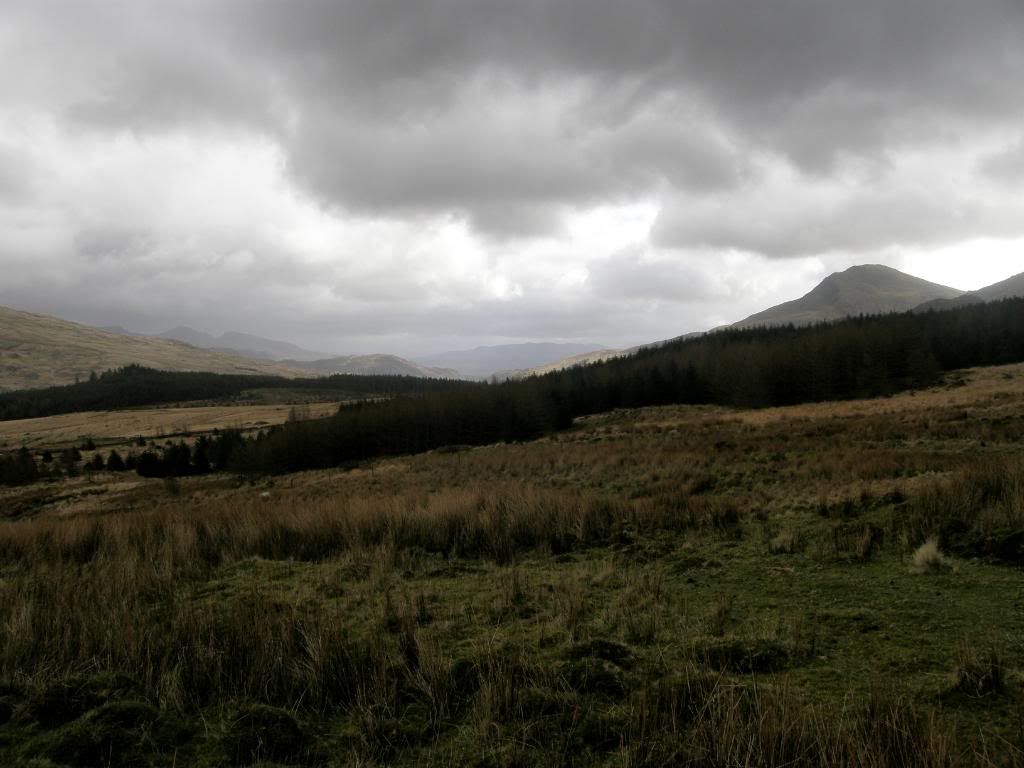 We should have gone further south to the bright spot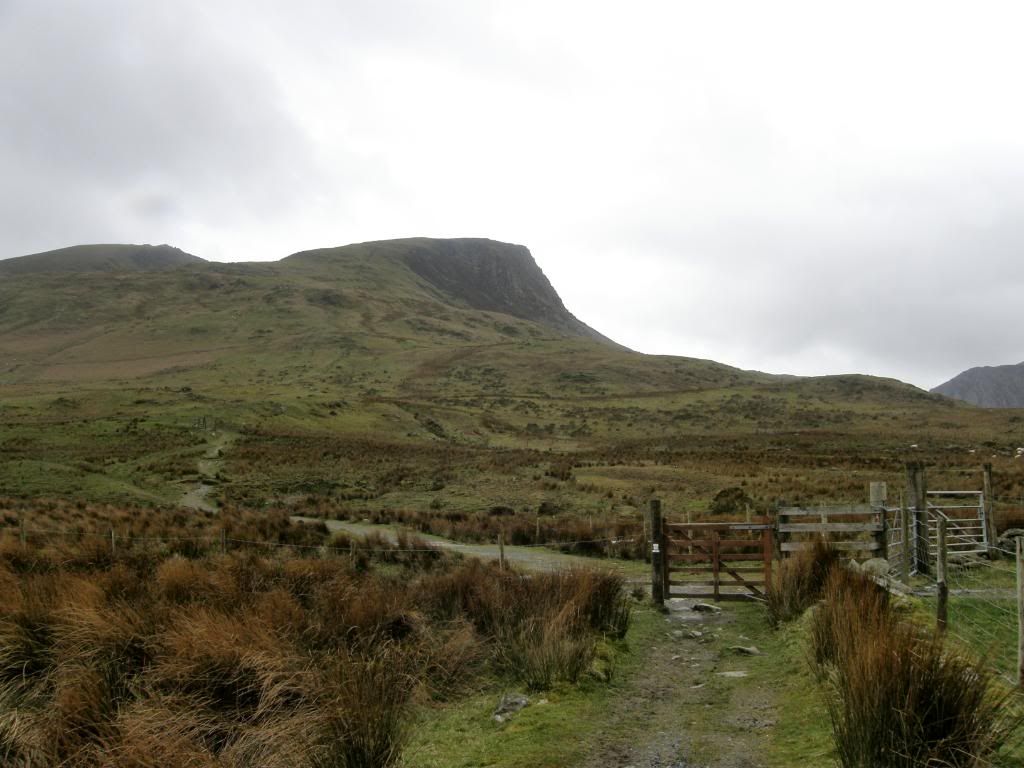 Annoyingly the top of Y Garn was clear now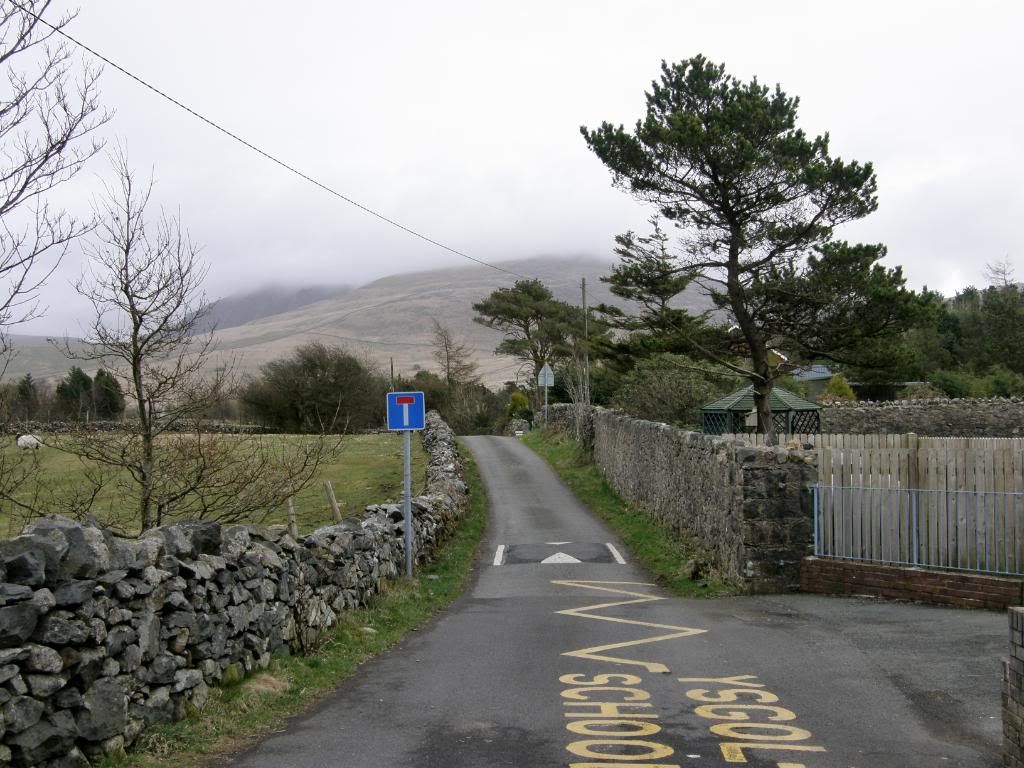 And the other end of the ridge where the car was parked
As we got back to the car we took time to look back to where we were and agreed that we had had a good time despite the setback of the weather. As Mike opened the boot of his car and we got our waterproofs off, he asked 'who's keys are these?' To which Robbo replied 'there mine' – and then the comedy moment struck as Mike asked 'Robbo, how were we meant to get back from the other end if your car keys are here?' That was the queue for much guffawing and a bit of leg pulling and I still have a chuckle now and again. Poor Robbo didn't know what to say – a bad car day this was. But we consoled him with the fact that he would have had to go around Nebo where the car was parked and try and get a lift. Never mind we said, the village of Nasareth was close by so maybe we could have ridden a donkey back. Walking, it's a funny old game.