The Anglesey Coastal Path 2014
Day Two: 9th April
Weather: Bright and sunny with a touch of windburn. Turned chilly in the afternoon once the tide turned.
Route: Trearddur Bay to Rhosneigr - 15.1 miles
A change from the high cliffs from day one, although I continued with the great coastline scenery and features. There was a fair gaggle of geologists out and about looking at all the outcrops down on the cliffs of Rhoscolyn. Anglesey is world renowned for it's geological formations and is classified as a Geopark. Very complicated and forever being updated.
As I approached the coastguard look out tower the views suddenly open up out over Rhoscolyn Bay and it's sandy beach. Lots of childhood memories of walking around the headlands here and one or two landmarks I recognised from 43 years ago. Lovely grassy paths down to the beach and views over to Snowdonia and the Llyn Peninsula beyond Rhoscolyn Beacon. Beyond Rhoscolyn was revisiting land I'd walked often from the caravan we had at Silver Bay. The site itself is much changed but the buildings are still there, but as expected everything is much smaller than my memory recalls. A short walk along the sandy shore and it was a cut back above the dunes to walk along wooded paths, soggy pasture and quiet lanes. A permissive path open from January to October was a delight to walk down even though the paths were a little muddy, with new boardwalks over the worse sections. Not many wild flowers out yet, but many about to burst into life. Some of the trees are looking quite dead despite having plenty of water to set them going.
It's a 2 mile walk from Silver Bay to Four Mile Bridge and I can remember long hot summer walks with my brother to fetch a loaf of bread. I'm sure my Ma just used to send us to get us out of the way for a while. Good memories though and we had many happy times there.
Once I reached Four Mile Bridge I found the local cafe and stopped for some lunch. It's nice to know these places are here and I spent a pleasant hour resting up out of the blazing sun, grazing away on a baguette and supping quantities of strong tea. I watched the local RSPCA workers doing a bit of training on the estuary. Must be a few cattle needing rescue from the mudflats now and again.
I had my first ever (and only) fishing rod here – bought by my Uncle if I remember correctly. Didn't catch much apart from the telephone lines, but we did catch some mackerel from time to time , which my Pa used to gut , fillet and cook up into Kedgeree and feed us. I didn't like it at the time but now appreciate that it was probably very tasty, and very healthy – sorry Pa.
The second half of my day involved the walk to Rhosneigr around the airbase at RAF Valley. The noise of the training jets was a constant roar, but as with all noise you become accustomed to it after a while, by when the Eurofighter was taking off it was quite a leap in the decibel levels. The signage continued to be good, but the two acres of muddy shite through a farmyard beyond Rhoscolyn was a bit of a shock. But it was behind me soon enough and didn't really impinge on my enjoyment. There's a few flood defences around now, but the landscape of the salt marsh is a delight to see with plenty of birdlife around, but still a little early for some of the migrants. Holyhead mountain isn't that far away from view and nor is the aluminium plant tower. But it receded a little as I got further around the coast. Once away from the fields on the north side of the airstrip the route skirted around the south side along the beach, with a stiff breeze blowing sand in snaking flows. A couple of miles striding out along the sand, with a couple of kite surfers enjoying the elements, I arrived at Rhosneigr to realise I was too far down the beach and had a river to cross to get up to the town. A careful look along the river led me to a shallow crossing where a bit of tip toe-ing led me dry shod to my B&B for the night. The new boots were fine with no problems for my feet, but my right peg is really giving me some gip.
Another great day and really enjoying myself despite being topped up with Ibuprofen. I have a sachet of sun cream to use on my tasty legs tomorrow to stop them getting excessively fried. That'll keep them moist
Looking back on Treardurr Bay with Holyhead Mountain in the distance
out onto the headlands once more and easy walking on sandy paths
plenty of geologists out and about today to see some 'melange'
plenty of soft turf to stroll along. Holyhead Mountain becoming ever more distant to the north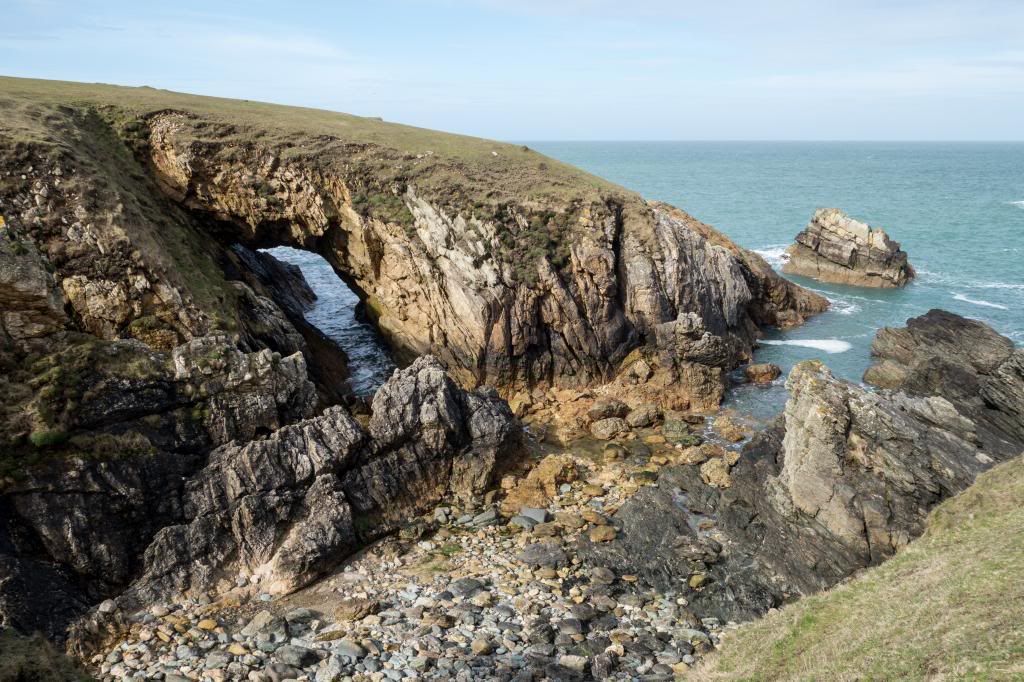 sea arches and stacks are plentiful along the coast here, especially along localised fault zones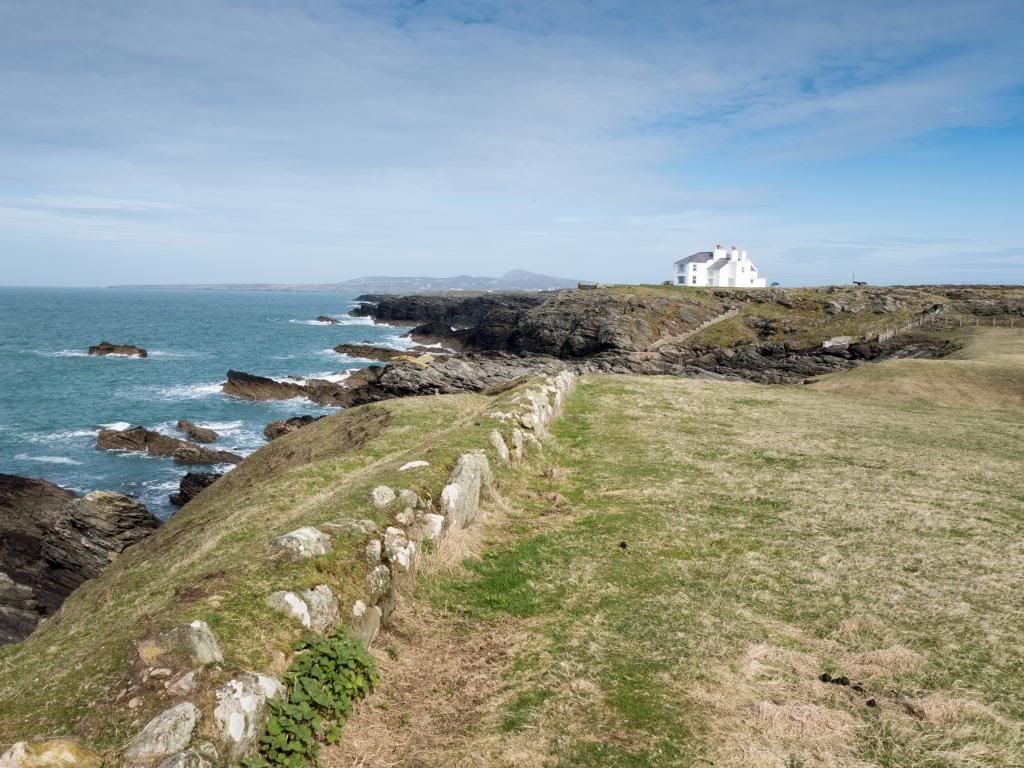 it's quite common to see an earth stone embankment along the coast to protect livestock from the drops below
and drops there are. I used to climb around here with my brother, but my Ma didn't know or she wouldn't have let us out!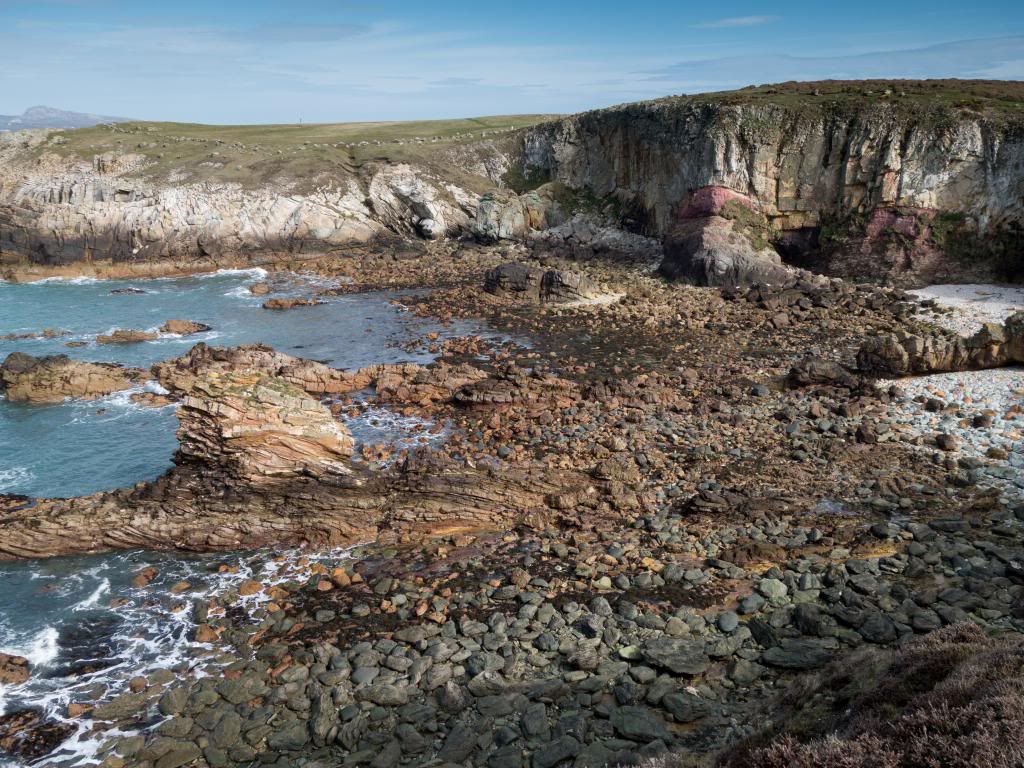 Porth Saint was eroded away along a fault zone, where super heated iron rich waters from deep in the earth have altered the sandstones - see the intense red
great drystone walls close to Rhoscolyn Head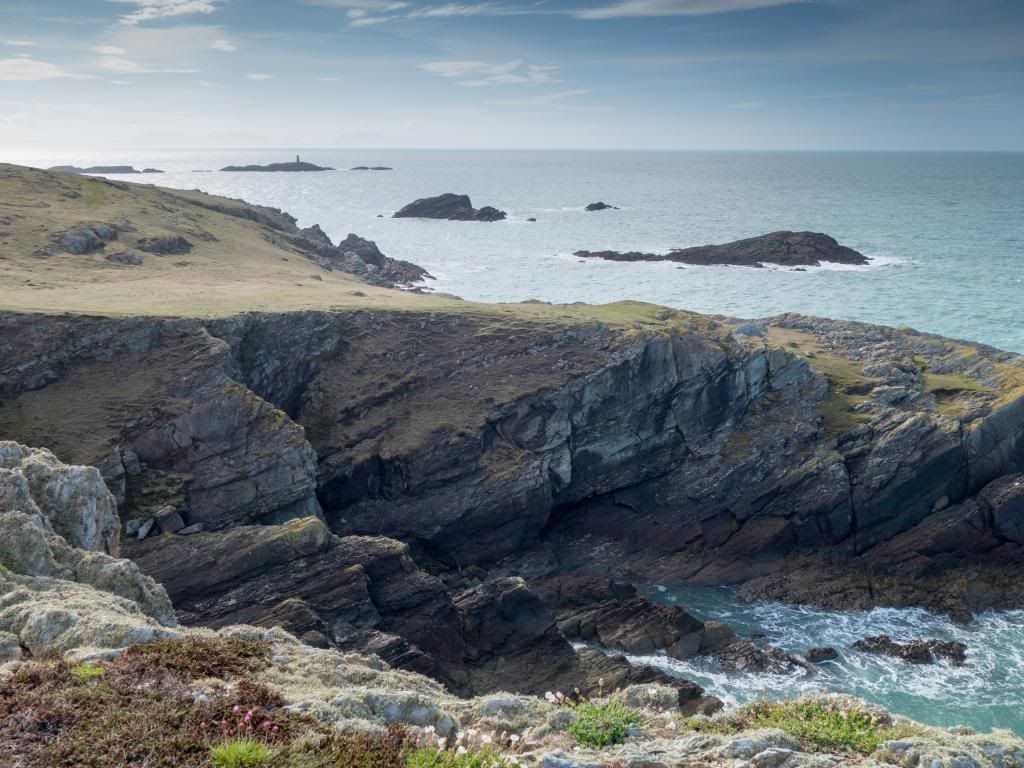 Rhoscolyn Beacon comes into view from Rhoscolyn Head, and the distant Llyn peninsula in the hazy light
St Gwenfaens Well collects water from a boggy area. There are stone seats the other side of the wall. It must have been a small building
the Coastguard look out above Rhoscolyn
cracking views back to Treardurr Bay and Holyhead
Rhoscolyn Bay down below
Rhoscolyn Beacon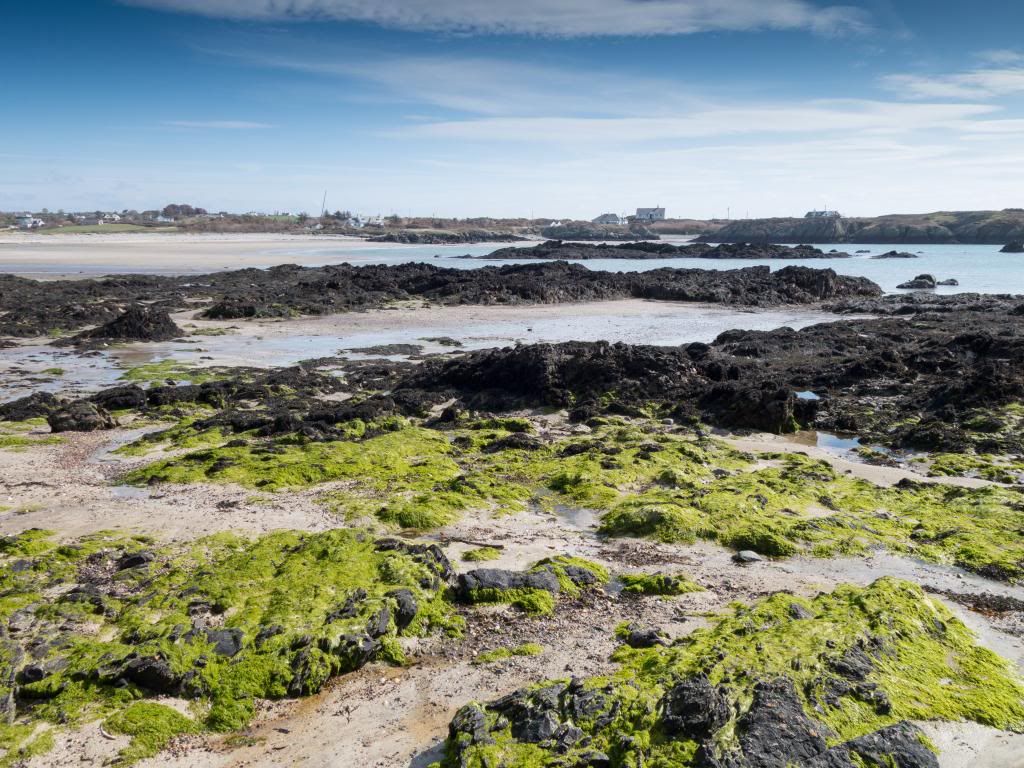 Rhoscolyn Beach, lovely and sandy
I spent some happy times wandering around here in my youth
beyond Rhoscolyn Beach I walked around the headland to Silver Bay. Swanky new cabins now adorn the caravan site where I misspent many a happy hour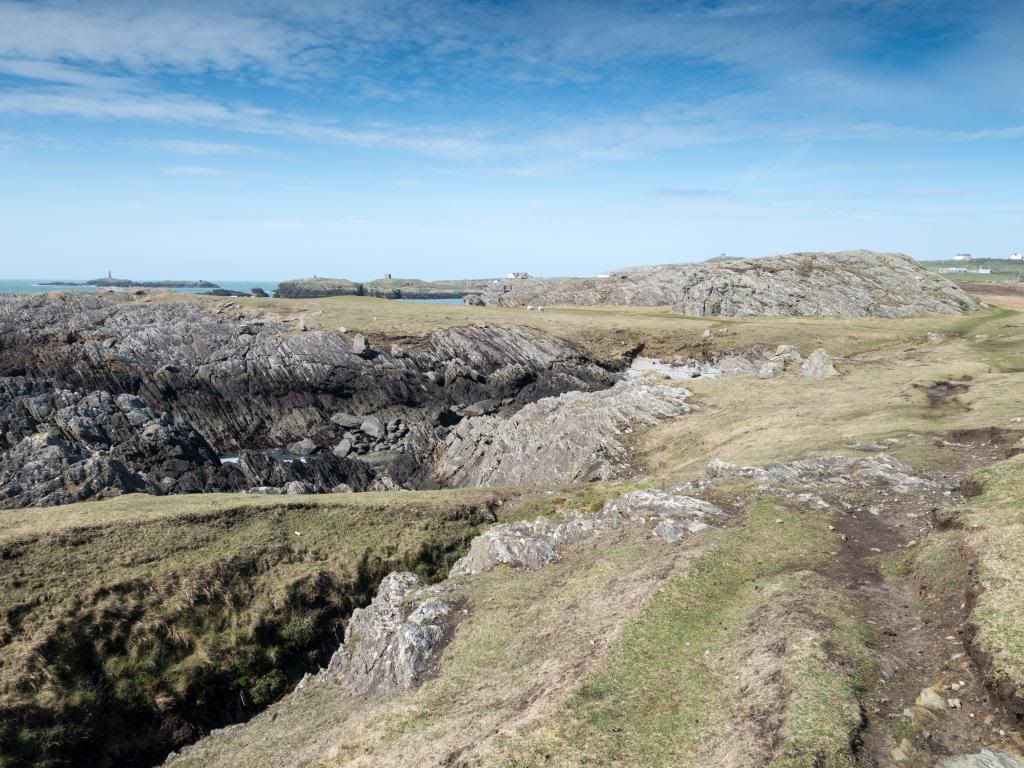 plenty of easy walking around the headland
Silver Bay beach and some memories return, although it looks a lot smaller than I remember. RAF Valley across the bay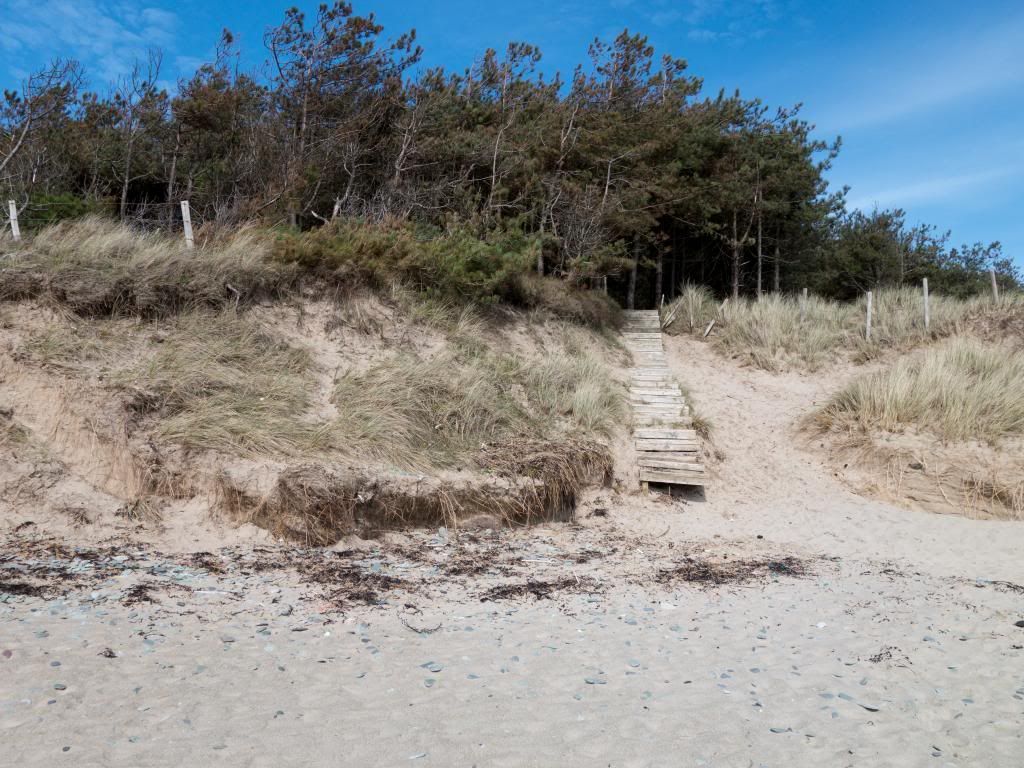 the coastal path cut up the sand dune to travel through some old pines and scrub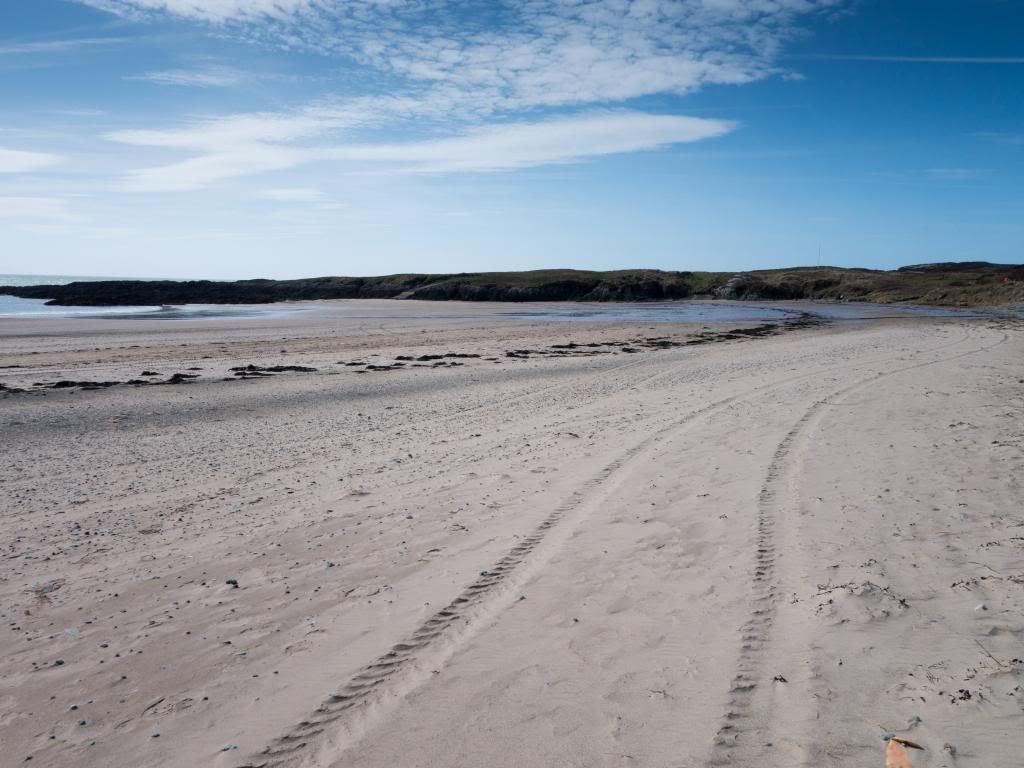 a last look along the beach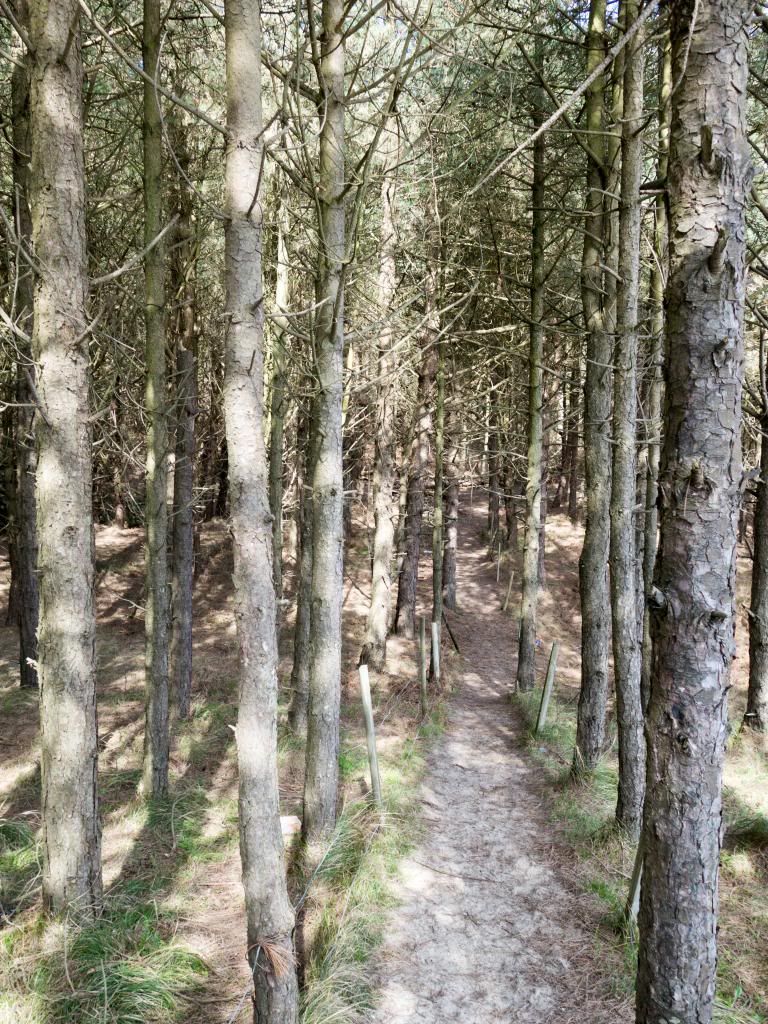 the path is well trodden and clear to follow
a short piece of road walking before reaching a concessionary path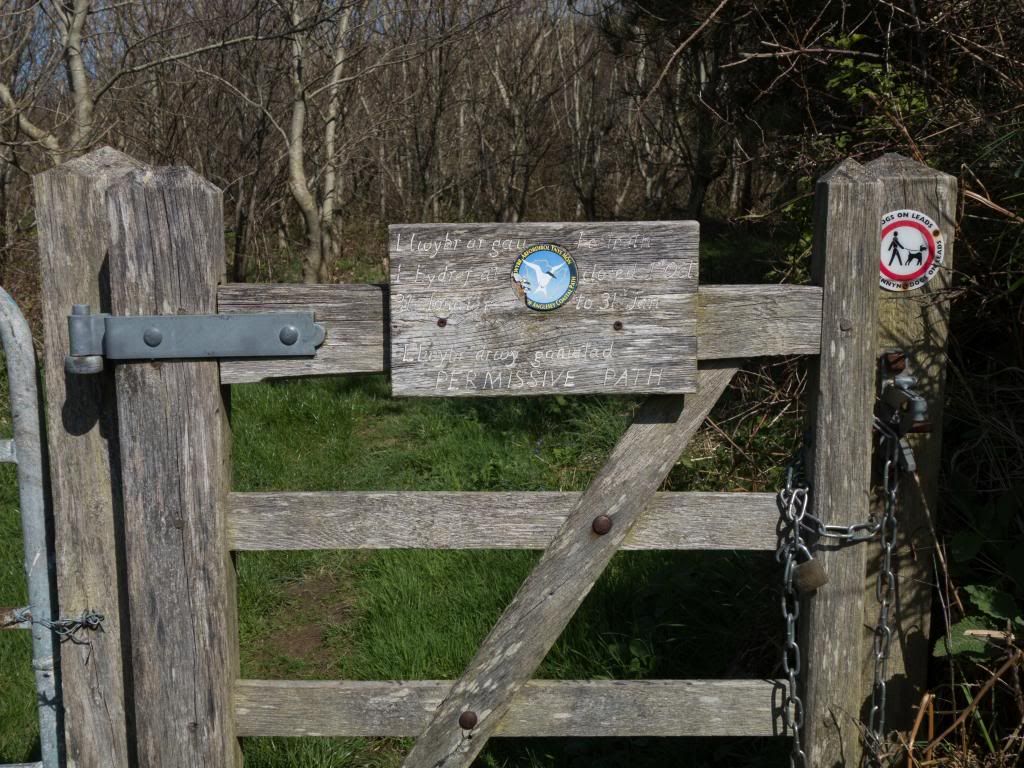 this was thankfully unlocked and proved a great way through avoiding the lanes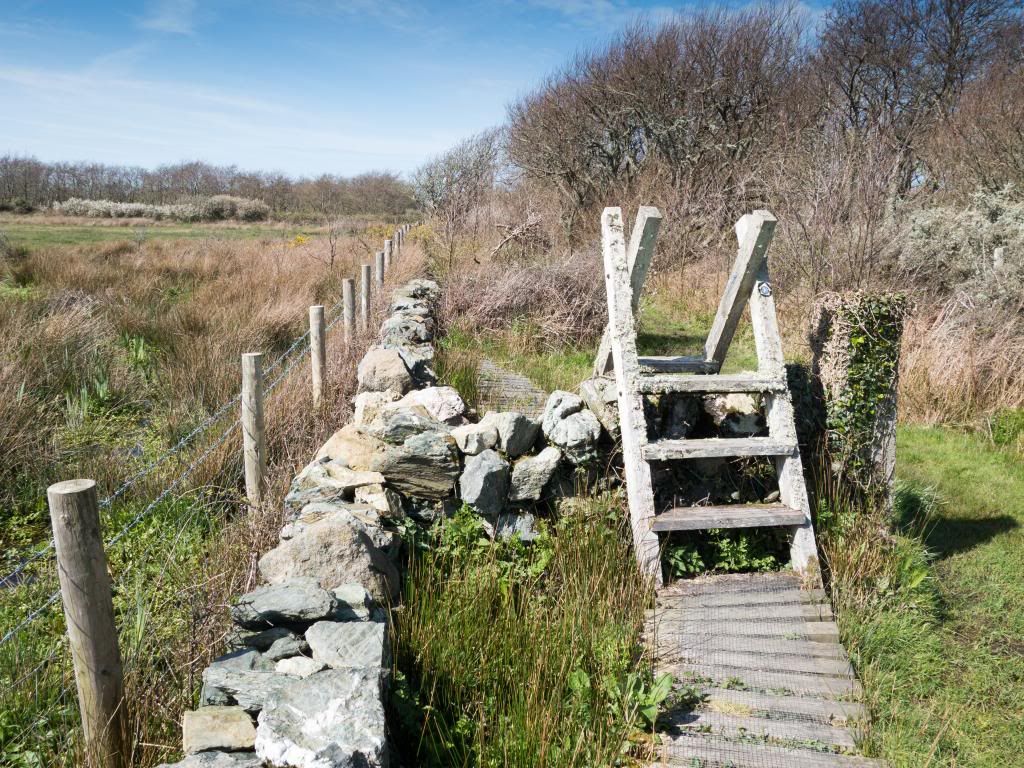 occasional boggy areas have been given a boardwalk to keep your feet dry - another success of the path
winding my way towards Four Mile Bridge, where the path crosses from Holy Island onto Anglesey
this lot were from the RSPB doing a bit of training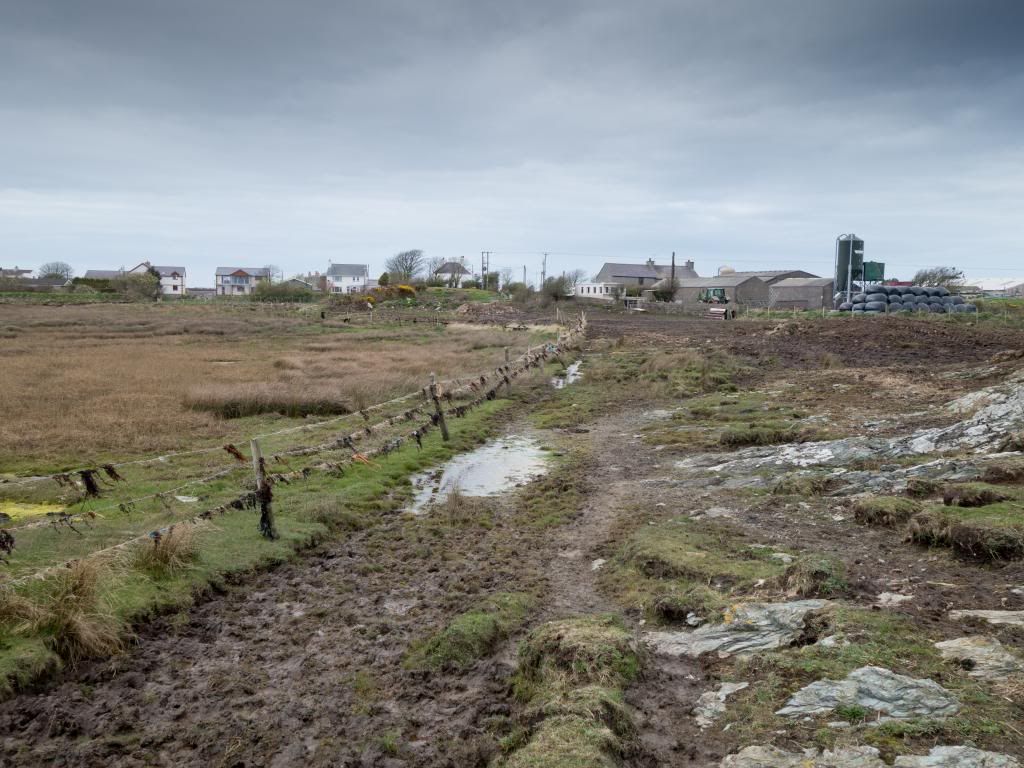 probably the sh***iest bit of ground for the entire coastal path. An acre of the deep smelly stuff. I'm sure that heads will be knocked together to clear this up a little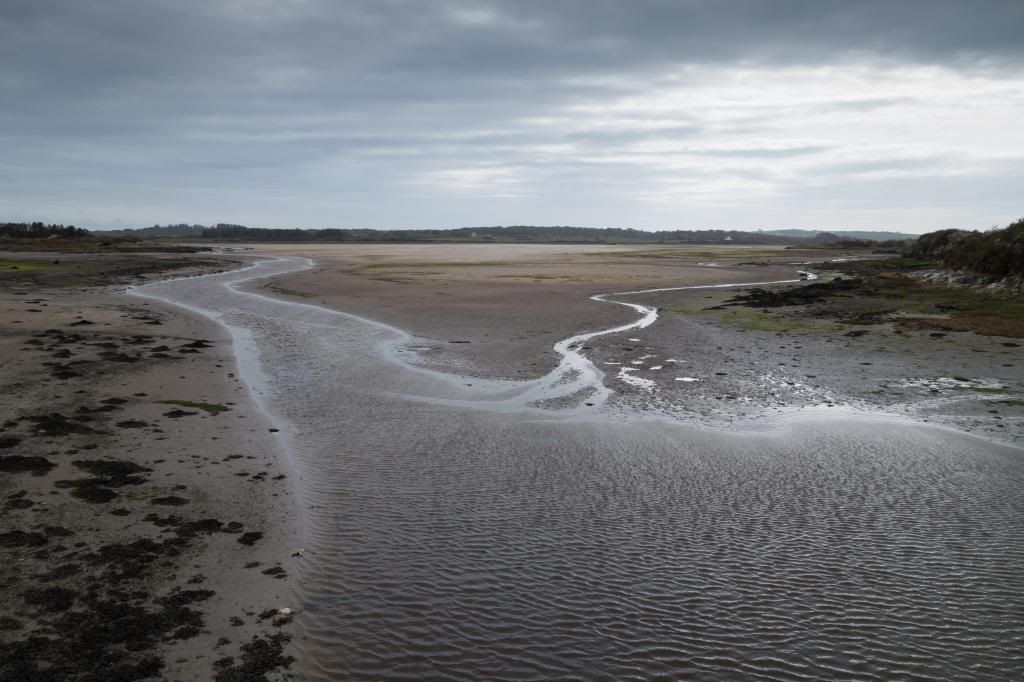 but it didn't take anything away from the peace and quiet. Getting a bit dull weather wise now
the path winds around some small bays, avoiding mud flats as much as possible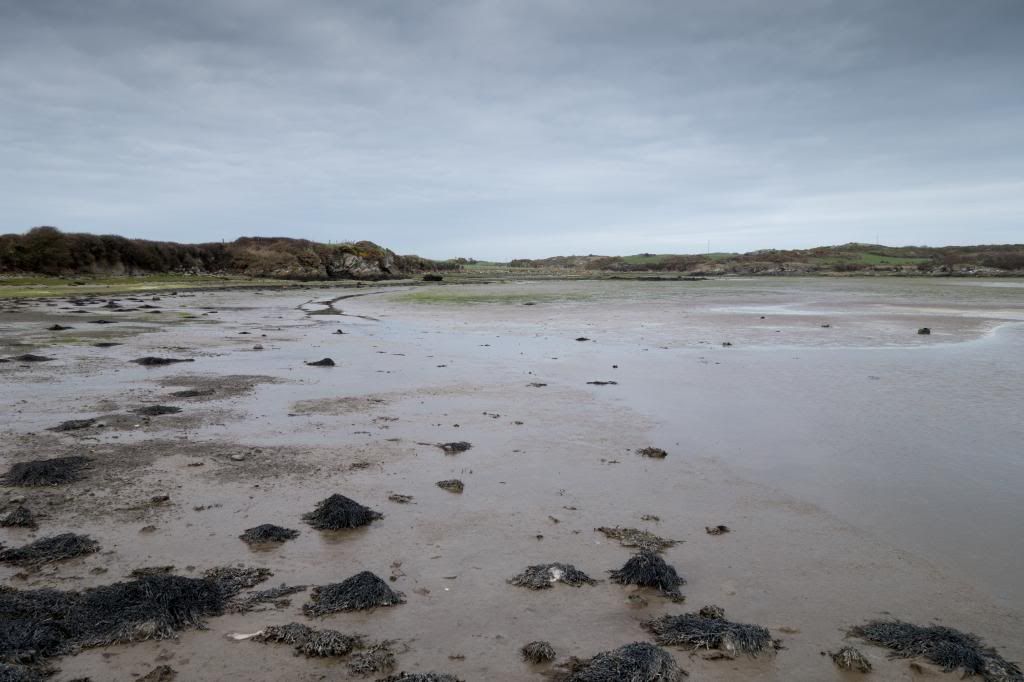 at Penrhyn hwlad you are faced with 3/4 mile diversion if the tide is in because you wouldn't be able to cross the estuary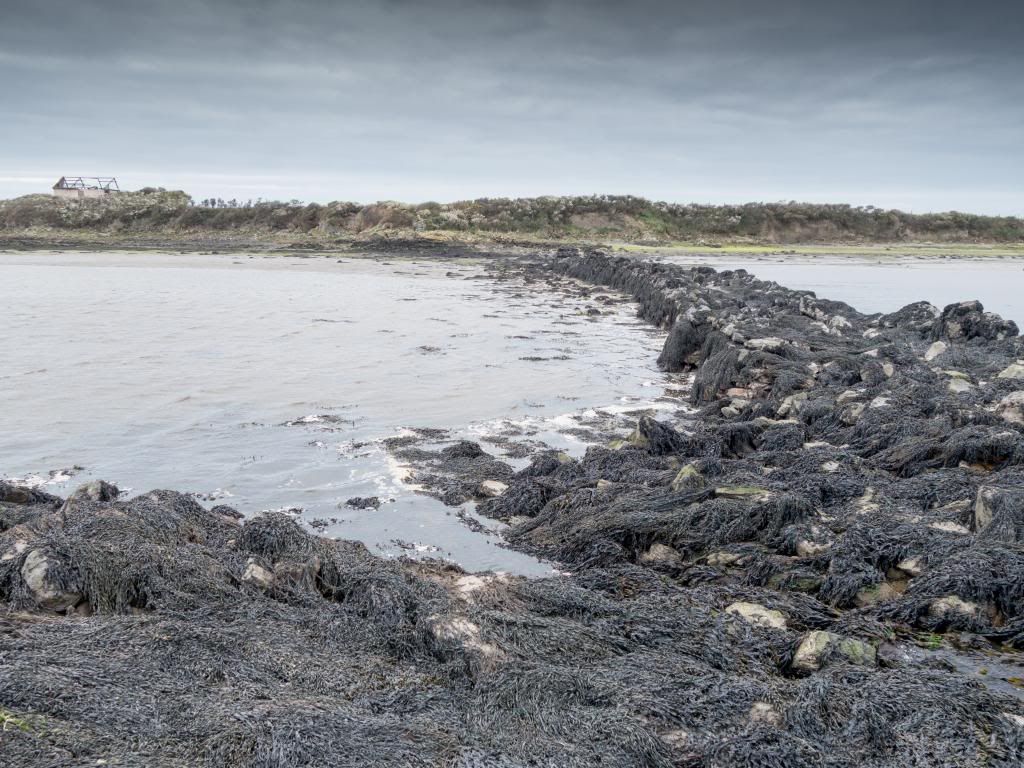 whereas if you're lucky like me you can almost walk on water across the mud flats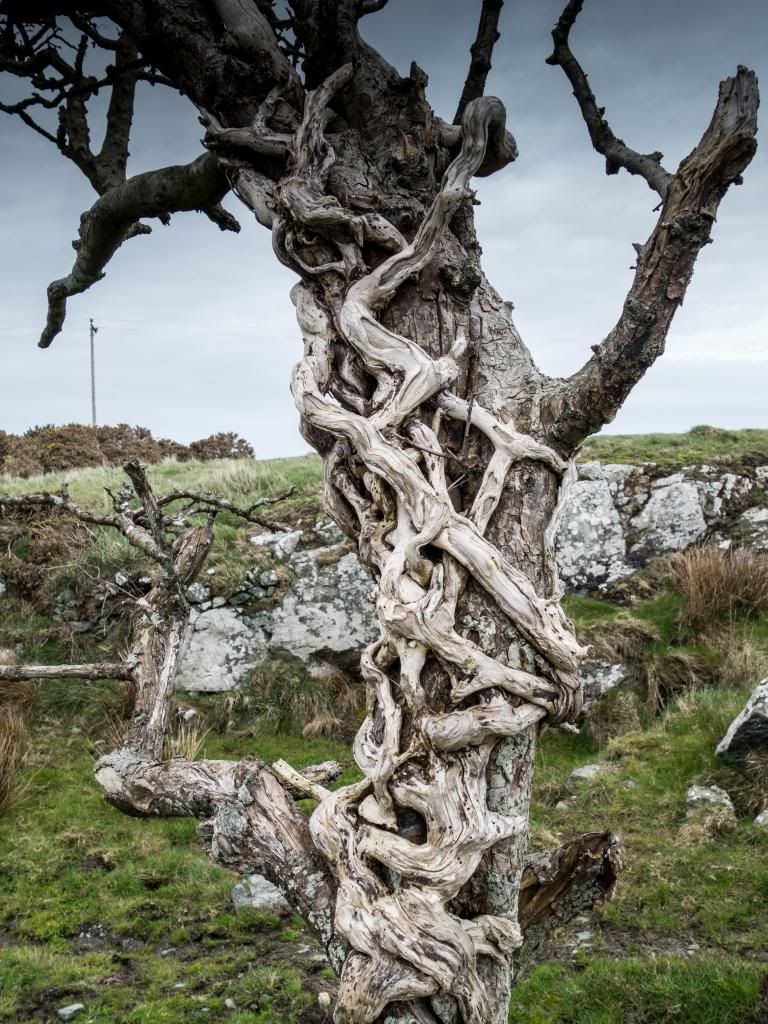 some old ivy still clinging on for it's life
after passing the end of the Valley airfield and it's landing lights, Traeth Cymyran is reached and the views closer to the Llyn Peninsula
windy and raw along this stretch - wonderful walking
at the end of Traeth Crigyll looking back to Holy Island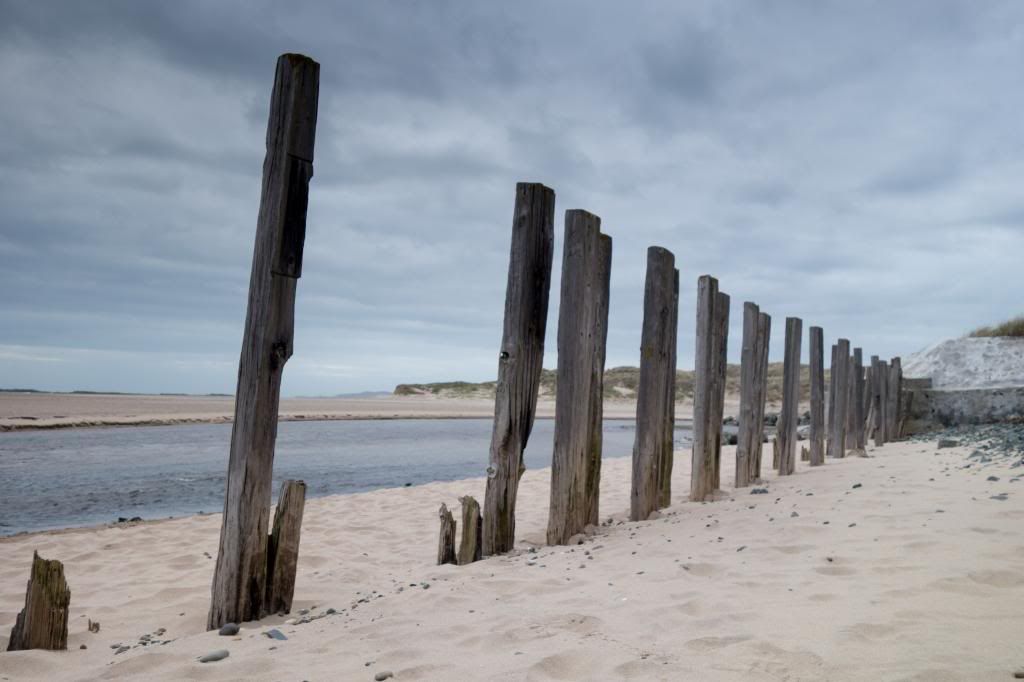 and Mr Lucky got lucky once more by being able to cross dryshod avoiding another inland diversion