The Anglesey Coastal Path 2014
Day Eight: 15th April
Weather: Mostly bright sunshine.
Route: Amlwch to Church - 19.1 miles
I woke this morning after a not very good sleep, in a not very good hotel, and to a not very good breakfast. Least said the better, but it stoked me up and I was soon out onto the roads of Amwlch – a town that doesn't look like it's loved very much despite it's long history. I loaded up with a decent snack or two thinking that I'd need plenty of sustenance over this long day, and I was right. A day of surprises though.
I wandered out over old rail tracks that hadn't seen a turning wheel for many a year, quite eerie on a quiet day. To the south I could see an old windmill and some distant winding gear up on Parys Mountain with the old copper mines. I was soon back on the coast ambling along the cliff tops in a gentle up and down, a slow start to let my legs warm up. They've not been too bad this past week but I do need the Ibuprofen \ Paracetomol to get me through the day. It wasn't long before Bull Bay appeared, a small hamlet and a bit posher than it's near neighbour. Again not too many people around and I passed by in the blink of an eye. Up and along some high cliff tops and I was soon at one of the delights of the day, Porth Wen and it's old brickworks and kilns. A great sight to see nestled down in the bay. I'd been down to mooch around the kilns before so didn't venture down to take a look, but they all look in good nick from a distance. There are three domed brick kilns as well as the bigger buildings and chimney stack – some interesting stuff is here.
I carried on uphill below Craig Wen, passing some enthusiastic DofE students, with the not so enthusiastic coming up the other side. Some big cliffs around this part of Anglesey looking down over Porth Cynfor or Hell's Mouth – presumably you wouldn't want to get stuck around here in a boat on a bad day. Along the north coast between Amlwch and Carmel Head are three small islands – East Mouse, Middle Mouse and West Mouse which marked my progress as I strolled along today.
After the delights of Porth Wen it was along some very high cliffs that led me to another delight at Dinas Gynfor the site of an old hillfort, and a site of geological importance. The cliffs here show the boundary between the ancient Precambrian rocks and the later Ordovician sedimentary deposits about 470 Million years ago. The jumble of Precambrian rocks are great to see and it includes huge fragments of diverse origin welded together under intense pressures over the ages. There's also some nice buildings down in the valley between – an old porcelain works, backed by some large reed beds glowing in the sunshine.
A steep set of steps up form the porcelain works took me back up to the top of the cliffs and the next viewpoint along the coast soon appeared in the form of Wylfa Power Station. I don't know what I was expecting but it didn't intrude on my senses too much, although on the path there were plenty of people out from Cemaes Bay taking in the air. I continued the wander along the cliffs towards Ceamaes, with the beaches I crossed being pebbly and not much sand around – Most of that is at Newborough. The beach at Cemaes is nice though, and the village cafes were a welcome break on this long sunny day, and I decanted to the high street, and loaded up with some refreshments, before continuing the long walk to Church Bay. My favourite bit of Anglesey geology was along the coast here – the Melange – with big mashed up pieces of limestone clear to view in the rocks – all formed when two tectonic plates collided a long long time ago.
It's a short walk out of Cemaes to the Wylfa power station and to be honest it didn't intrude too much on my senses as most of the main complex is hidden from view. As you can imagine there are a few large power lines running out of the power station towering above vibrant gorse bushes. The route was diverted a little around the fringes as there is a fair bit of groundwork going on, and the burghers at Wylfa Power Station don't want visitors or walkers getting fried or squashed. The new groundwork looks like it is urgent, as I counted up at least 10 small drilling outfits, sampling the soil on a grid pattern, so I expect the coastal route will find a new way around this lot once they get building whatever they are going to build. Once I was beyond Wylfa and back to the coast I passed by a delightful derelict property at Cestyll, with the gardens looking quite tropical in the warm sunlight – it would make a fabulous holiday home if you didn't mind the nearby reactor – maybe the sea is warmer around here!
I really enjoyed the remainder of the north coast all the way along to Carmel Head, looking at geology of the cliffs, the birdlife flitting ahead of me, and I could map my progress easily as the islands of West Mouse and The Skerries beyond came into view. As I reached Cemlyn Bay to cross the shingle beach between the headlands, and the lagoon behind it with it's tern colony, I also noted that a police car was taking a keen interest in my progress. Probably because I kept taking photos of Wylfa, and I saw it on three separate occasions. I think they finally realised I was a walker after the last encounter when I waved said camera at them. Across the shingle bar at Cemlyn was slow progress and unfortunately there wasn't a handy refreshment stop at the other end. But it was a lovely scene – bright sunlight and a very loud tern colony of seabirds on the islands in the lagoon. There's a row of posts across the shingle bar and I think you're meant to stay on the seaward side of them to not disturb the nesting birds.
Beyond the bay the roller coaster coastal path continues gently rising and falling. As I got closer to West Mouse I could see the beacon, a large white painted column which is matched on Carmel Head by two further columns, known locally as the "Three White Ladies". They were constructed in the 1860s as navigation aids: lining up the three columns marks the position of a shallow reef offshore that was a grave danger to shipping – presumably it still is! They look big from a distance but close up they are flat with a supporting buttress holding them up. A bit like a brick easel, a very big easel of course. The lighthouse on The Skerries is painted to match the St Helens rugby league shirt – red and white hoops and very fetching too. Carmel Head is also the site of the Carmel Head thrust fault where the oldest rocks in Wales have been pushed over the younger Ordovician strata – I didn't actually see it, as the path is very high at this point. It is also another turning point, now heading south and onwards to Church Bay where my penultimate stop lay. Goodbye to Wylfa and hello to Holyhead Mountain once more, with Church Bay a couple of miles of high cliffs and bays away. It was a very long hot day and I was a little fatigued towards the end of it with the unrelenting sun beating down on my brow – did I say it was dry again? A small NT wood reaches the shore and a lovely small Llyn at Ynys y Fydlyn – a very appropriate name as I passed a young couple getting to grips with each other! A little further on I walked above Church Bay and it's lovely sandy bay, with the low sun shining silver sparkles across Holyhead Bay, a lovely finish to the day – tired and thirsty but happy. Eventually I reached my B&B for the night which was splendid, as was the meal served up.
walking the line, across the railway out of Amlwch
out through the town and some scrubby pasture, and up and over this pointless stile
Bull Bay - a bit posher than it's neighbour
heathery headlands ahead, with plenty of undulations
big cliffs and high above the water gives a great feeling of airiness
Porth Wen brickworks across the bay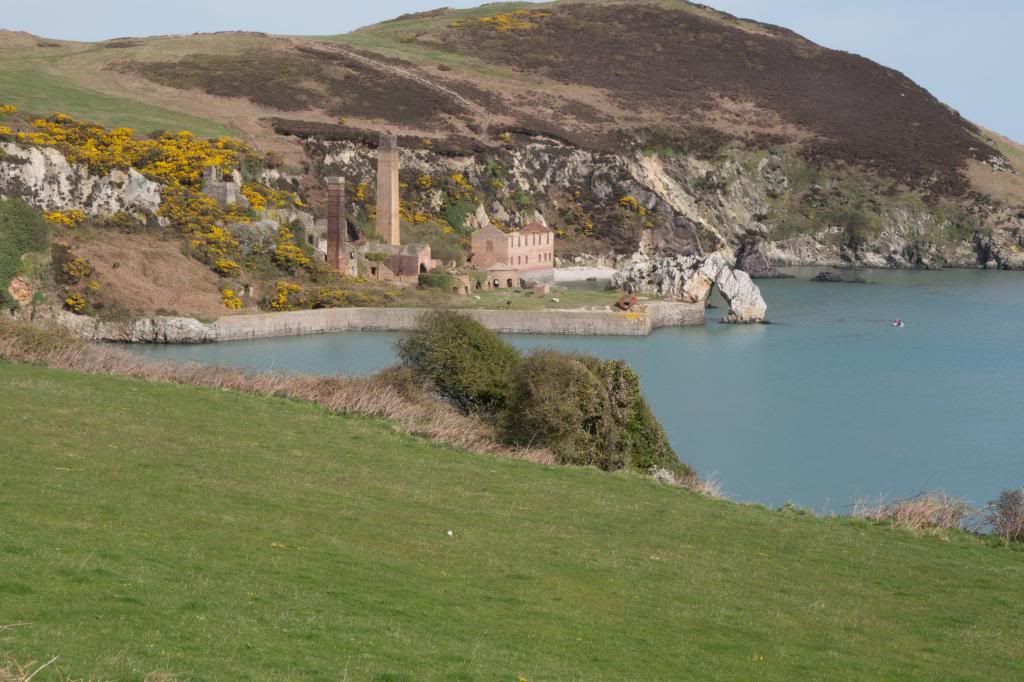 three round brick kilns on this very interesting site
looking down over Porth Cynfor or Hell's Mouth from big cliffs
an old hill fort ahead on Dinas Gynfor which sits above the old porcelain works at Porth Llanlleiana
but down steeply first and back up to the hillfort
looking down from the hillfort over lovely golden reed beds when the sun was shining, with the windfarm in the distance
the porcelain works with a kiln up on the hillside and curved walls to keep out the high seas?
further along the cliffs up on high - great airy feeling up here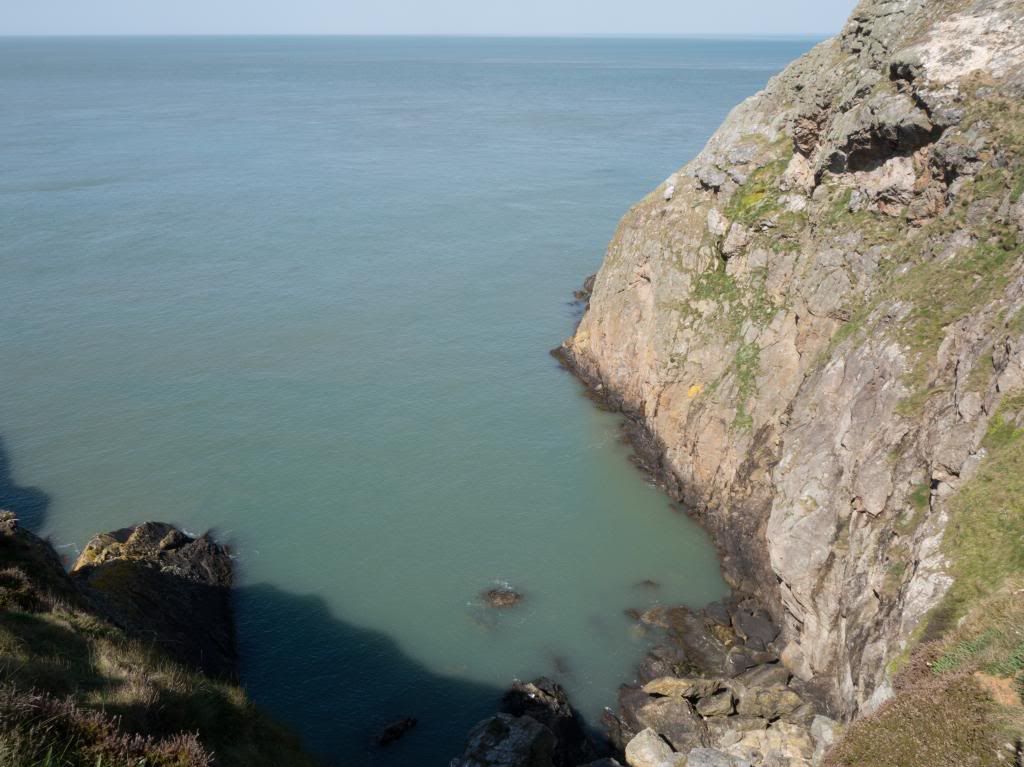 didn't see much life down below. I thought I'd see a seal or two
the small chapel of Ty'n Llan ahead with the Wylfa power station looking large in the distance
the beach at Porth Padrig with crumbling cliffs in the background
the lovely sandy beach at Traeth Mawr
Great Geology on view - the famous 'Melange' incorporating large blokes of limestone and lots of other interesting stuff
calm seas and Wylfa across the bays at Porth yr Ogof
big power lines exit the power station - no surprises there then
the controlled path through all the groundwork - keeping me penned in. Elf and safety etc
the exotic garden at Cestyll an abandoned house - a beautiful setting as long as you look the right way
although it's big, it didn't intrude on my senses too much due to the fact it was quite quiet. It soon fades into the background
more melange as I walk around towards Cemlyn Bay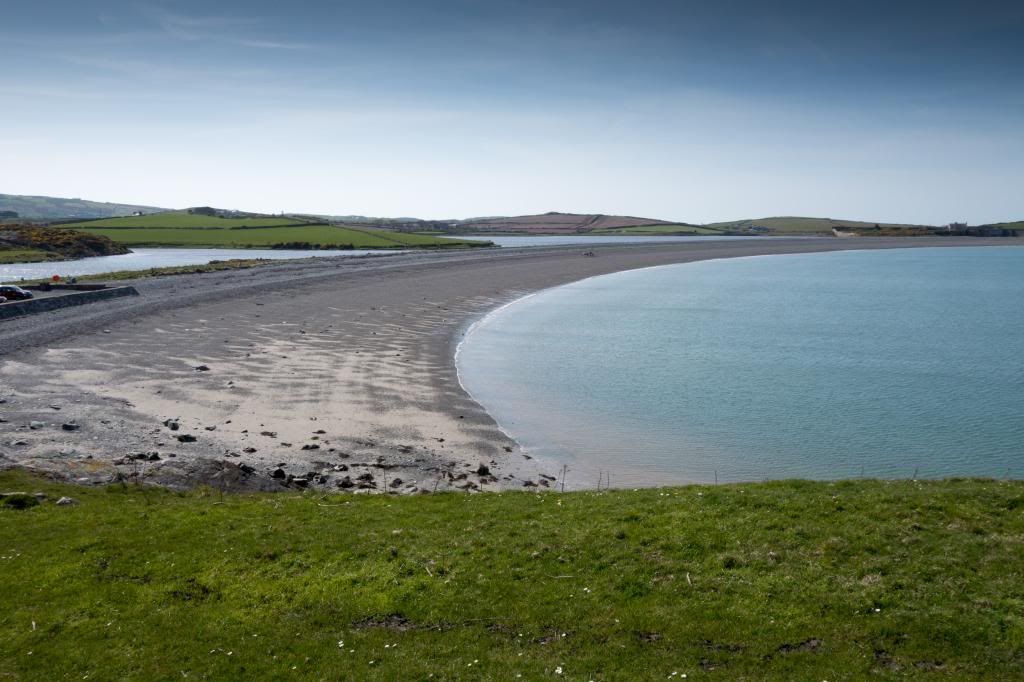 the shingle bar and the wildfowl reserves behind it
a bit tiring walking across here, and I think the poles are to keep me the right side of the birdlife especially at nesting times
looking back to Wylfa and Cemlyn Bay
Harry Furloughs rocks and in the distance West Mouse and the Skerries
Wylfa disappearing into the distance beyond Hen Borth Bay
the Skerries and West Mouse off the north coast
wonderful coastal walking as the navigation markers appear on the headland at Carmel Head
two of the 'Three White Ladies'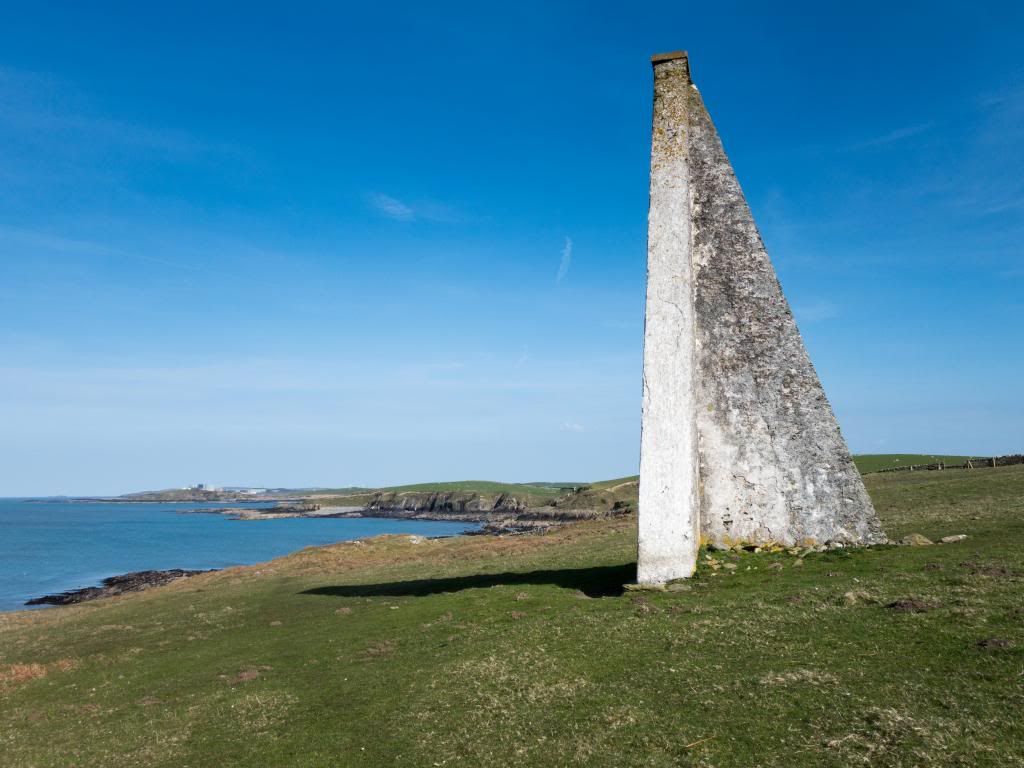 and the view from the side looking back to Wylfa
The Skerries off the north west tip of Anglesey
turning the corner on Carmel Head, and Holyhead Mountain comes into sight
wonderful ground to walk over, looking back to West Mouse
steeply down to the beach at Ynys y Fidlyn
which is backed by this nice little Llyn y Fidlyn
more great coastal scenery
Church Bay and the Lobster Pot restaurant ahead in lovely soft sunshine
peace at the end of a long satisfying walk
Church Bay
and a lovely sunset to finish the evening