The Rob Roy Way 2013
I hope you enjoy some of my walks and if you have any comments or questions about these webpages, please visit my blog where you can leave a message at the welcome post: My Blog is here
Introduction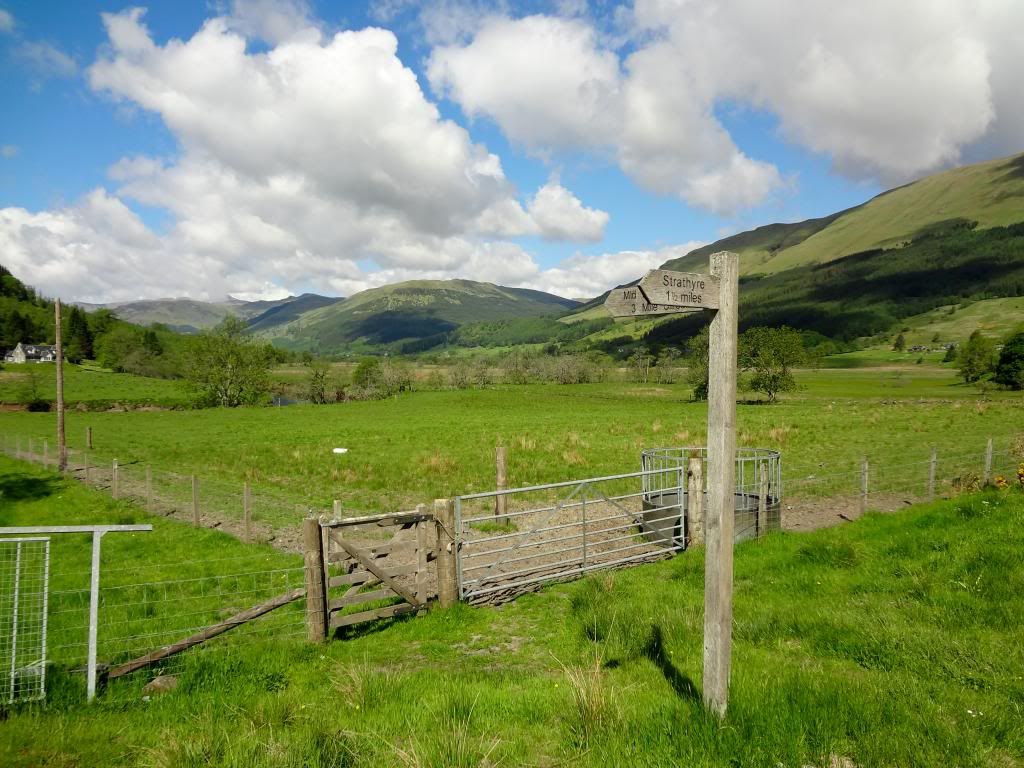 I usually have planned my long walks towards the end of the previous year but events in the last six months have generally overtaken me. I had thought about the Ridgeway for it's pre-history, or the Anglesea Coastal Path for a change of scenery and it's pre-history as well. But I've had to make a quick decision this year and got fed up waiting for things to happen, so have plumped for the Rob Roy Way as it fits nicely into a weeks walking. After walking the length of the Isle of Skye last year I have set my expectations a little lower, but I think this walk will still provide the satisfaction and relaxation I need over the 95 mile journey. I looked at the Rob Roy Way website and googled for a blog of the walk, with the only one appearing completed by the Pighole Team - an old favourite of mine. Having read through their pages and looked at the route I decided where I would stop and get busy booking the B&B's. Thankfully I managed to book all of my stops in one day, with only one place being fully booked at Ardtalnaig. They kindly suggested another B&B which offerred to pick up and drop off, which is a great way to do business. I also opted for the extension from Ardtalnaig to Amulree, even though the hotel at Amulree is no longer open, so I've arranged transport and a 2 night stay in Aberfeldy which should be great. Because I've had very little walking since last year I'm distinctly lacking in fitness so when I get back to shore in late May I shall hit the ground walking and get out for 5 or 6 mile walks everyday, and hopefully one or two longer ones before the drive up to Scotland. That should put me back in shape as long as I pay a visit to the physio (for a rub down with some chip fat) before leaving and get a good stock of Ibuprofen. Food and drink shouldn't be a problem along the way as there are plenty of places for stocking up the snacks, sandwiches etc at every stop (note to self – lay off the choccie) No big mountains to climb this trip, so I'm hoping for some clear views to the big hills along the way. Maybe midge free or maybe not – I've been lucky so far.

Post walk thoughts
I had this part all written out, but it's disappeared, and I apologise if this seems a little disjointed. My immediate thoughts as I walked into Pitlochry weren't the usual euphoria at having finished another LDP. I was fortunate once more with the weather and the forecast pretty well matched reality - well done the Met Office.
My thoughts now, some four months later, are that although it was enjoyable it isn't a walk that I would rush to repeat. The biggest setback is the large amount of road walking and the limited amount of actual real paths - I guess the alternatives would be a lot more forestry plantation, although to put it in context most of the roads are very quiet. In some areas the plantation trees are now being harvested, but in many others the trees are maturing and as such they do limit the views. Unless some judicious pruning and felling is done soon, then some of the views will disappear altogether.
Much of the path is at a low level and with hindsight I would make an extra day to take in Ben Ledi - I would walk from Aberfoyle to Callendar for a short day, and then take in Ben Ledi the next day on the way to Strathyre. An easy mountain to climb and some great views given clear weather.
I would also recommend the walk up to Amulree, and down to Aberfeldy. If you don't feel up to that then I would bypass the loch side road between Ardeonaig and Acharn - do yourself a favour and catch a lift.
Please don't let the above put you off too much - it is enjoyable, but I'm sure glad it didn't rain
The plan
The met office long term forecast for the period of my walk – I hope they're right, and generally the driest part of the year is usually April to June, although the last year or two this period has moved around -
Monday 27 May—Sunday 15 June – June is arriving; is summer arriving too?
Drier and brighter conditions look set for the start of June though there will be some cloud and rain around. Unfortunately temperatures look like they will be little disappointing hovering slightly below average for this time of year especially in the south where it could be described as distinctly cool. However, there is a chance things could warm up later in the period. Sheltered western parts of Scotland look like they could be seeing the best of the weather during this period with plenty of sunshine and largely dry.
I'll believe it when I see it. I'm planning on buying another soft shell to keep me warm in the breeze. The rest of my kit will be as it is every year – plan for the worse and enjoy the best. So if the weather is fair I'll be travelling light with BumBag and 'Travel Tap', a fully charged camera and a new pair of sunglasses. If it's wet I'm going to be taking the golf umbrella as long as it's not too windy, as this saves getting to sweaty\clammy in waterproofs. I did this on my Hadrian's Wall walk and it worked very well – doubles as a walking stick as well. I purchased the Rob Roy Way guide book and the Harvey maps 1:40k map of the route, but having read the booklet with route notes I think I'll probably just use the Harvey Map on the walking days, marked up with any essential points for navigation. I believe it's waymarked quite clearly as well – ever the optimist.
Day Zero: Leave Manchester and drive up to Drymen, north of Glasgow - 233miles

Day One: Drymen to Aberfoyle. 12.8 miles. Ascent - 775ft

Day two: Aberfoyle to Strathyre. 17.2 miles. Ascent - 1350ft

Day three: Strathyre to Killin 13.3 miles. Ascent - 1120ft

Day four: Killin to Ardtalnaig 12.7 miles Ascent - 1710ft

Day five: Ardtalnaig to Amulree 17.8 miles Ascent - 1563ft

Day six: Amulree to Aberfeldy 15.2 miles Ascent - 1080ft

Day seven: Aberfeldy to Pitlochry 12.2 miles Ascent - 1050ft

Total Ascent at 8648ft .....Total mileage....101 from my SatMap GPS